Antibiotic Medicine Manufacturers in India
Antibiotic Medicine Manufacturers in India – Antibiotic Medicines are among the most frequently prescribed medications in the present times. These medications effectively cure a number of bacterial infections by wiping out their presence in the patient's body and preventing their recurrence. Due to the upraised demand for Antibiotic medicines in the market, there are many pharma manufacturers in India that have started dealing in this specific medicine range. If you want to invest in superior quality Antibiotic medicines for your business, then connect with the Top Third Party Antibiotic Medicine Manufacturer in India, Saphnix Lifesciences.
Saphnix Lifesciences is an utterly devoted company to the motto of providing the most effective medicines at their end along with the expertise of learned and sophisticated professionals. Our top-quality medications are carefully prepared, packaged, exported, and supplied all around the country. Being one of the Best Antibiotic Medicine Manufacturers in India, we strive to surpass our contemporaries with the rich excellence and ultimate care that we take while manufacturing our medications.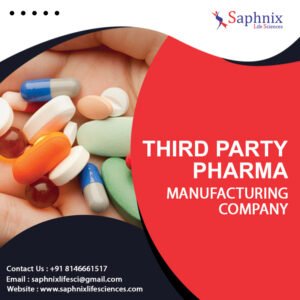 Know all tits and bits of our third party manufacturing services, medicine portfolio, and product pricing by making contact with us. Call us at +91 8146661517 or email us at saphnixlifesci@gmail.com.
Best Antibiotic Medicine Manufacturers in India – Saphnix Lifesciences
Saphnix Lifesciences is a multifaceted pharma organization that possesses all the resources and equipment required to deliver quality assured medications. The company has arranged state-of-the-art infrastructural arrangements that cover well-ventilated production units, fully-functioned drainage systems, in-built quality testing labs, powerhouses, and packaging centers. We have cutting-edge manufacturing plants that are located in pollution-free zones of Himachal Pradesh. Such precise arrangements and facilities allow us to execute manufacturing, quality checking, packaging, storage, and shipping of products in a hygienic and smooth manner.
Have a glance at our infrastructural facilities:
We have self-owned premises well-equipped with advanced technology systems.
Spacious warehouses for the hygienic packaging and secured storage of finished products.
State-of-the-art manufacturing houses are designed in accordance with temperature, humidity, and ventilation.
Separate sections are assigned for filter cleaning, drying, and storage.
Top Quality Antibiotic Drugs Approved by Legal Authorities
Saphnix Lifesciences is known as a trusted manufacturer, exporter, and supplier of premium quality Antibiotic medicines that are produced in compliance with universal quality standards. We have a true-to-the-end team of experts including doctors, researchers, managers, supervisors, and skilled workers that work as a whole to bring out quality medical solutions for all our clients and customers. As we are the Top Third Party Antibiotic Medicine Manufacturer in India, a large number of pharma companies rely on us to get high-end antibiotic drugs at decent prices.
Here are our most demanded antibiotic medicines in the market:
Cefuroxime Axetil Tablets IP 250/500 mg
Azithromycin Tablets IP 250/500 mg
Cefuroxime Axetil Tablets IP 250/500 mg
Ofloxacin 200 mg & Ornidazole 500 mg Tablets IP
Amoxycillin 500 mg & Potassium Clavulanate 125 mg Tablets IP
Cefpodoxime Proxetil Tablets IP 100/200 mg
Azithromycin 250/500 mg and Lactic Acid Bacillus 60/60 Million Spores Tablets
Faropenem Sodium Tablets 150/200 mg
Cefixime 100 mg and Lactic Acid Bacillus 2.5 Billion spores Dispersible Tablets
Levofloxacin 250 mg & Ornidazole 500 mg Tablets
Ofloxacin Tablets IP 200/400 mg
Ciprofloxacin Tablets IP 250/500 mg
Faropenem Sodium Extended-Release Tablets 300 mg
Moxifloxacin HCl Tablets 400 mg
Gemifloxacin Tablets IP 320 mg
Sultamicillin Tablets 375 mg
Cefixime 400 & Moxifloxacin HCl 400 SR Tablets
Cefpodoxime 100/200 mg & Dicloxacillin (ER) 500/500 mg Tablets
Linezolid Tablets IP 600 mg
Roxithromycin Tablets I.P. 150 mg
Perquisites of Linking with Saphnix Lifesciences for Third Party Manufacturing
Saphnix Lifesciences is a client-oriented pharmaceutical company that has been catering to the requirements of its clients for years now. Being one of the most trustworthy Antibiotic Medicine Manufacturers in India, the company holds the capacity of carrying out large-scale production in its sophisticated manufacturing facilities. We are the sole name in the market for getting premium quality pharma products and genuine business agreements. We always have stock availability in a bulk that gets innovated from time to time and this is one of the prime reasons why we have a rich client base.
We are all set to offer you the highest valued Antibiotic Drugs that are excellent in terms of quality, reliability, and safety. Below are the benefits of taking rich quality Antibiotic medicines from Saphnix Lifesciences:
The company assures timely delivery of medicines due to powerful logistics service providers.
There is reliable customer support for 24*7 availability of products.
All the products will be packed under tamper-proof and attractive packaging.
You will get high-quality antibiotic medicines at low costs.
By choosing us, you will get authentic investment plans and profit margins from our side.
our complete product range will be quality tested on several parameters.
Whether you are an existing business aspirant or establishing a new business, adding antibiotic medicines to your product catalogue will benefit you in either way. Associate with the Best Antibiotic Medicine Manufacturer in India, Saphnix Lifesciences, and get your hands on best-selling antibiotic drugs at affordable prices.
Contact Details!
Name: Saphnix Lifesciences
Address: Village Barotiwala, Utrathya Paonta Sahib – 173025, Sirmaur, Himachal Pradesh, India
Phone: +91 8146661517
Email: saphnixlifesci@gmail.com