Third Party Pharma Manufacturing for Ophthalmic Range
Third Party Pharma Manufacturing for Ophthalmic Range – The market of ophthalmic has been rapidly increasing as people are getting more conscious about their eye health. Investing in an ophthalmic range of products is a good way to grow and expand your pharma business. 3rd party manufacturing is no longer remain a new term now as numerous pharma companies are opting the manufacturing services. Saphnix Lifesciences is the leading name when it comes to Third Party Manufacturing for Ophthalmic Range. Our company covers the quite impressive list of eye care products and medicines that include analgesics, anti-infectives, anti-inflammation, anti-allergic, antiviral, etc.
Eye range medicines have a good demand in India and people are consuming it on a large scale. In order to meet the high demand of the customers, the pharma companies are investing in pharma manufacturing. By providing the effective manufacturing facilities Saphnix Lifesciences is considered as the top pharma manufacturing company. Now with the rise in the demand, we are providing the third party pharma manufacturing for the ophthalmic range in all the states and cities of India. We are an ISO certified firm and therefore all our production process take place under WHO and GMP certified units.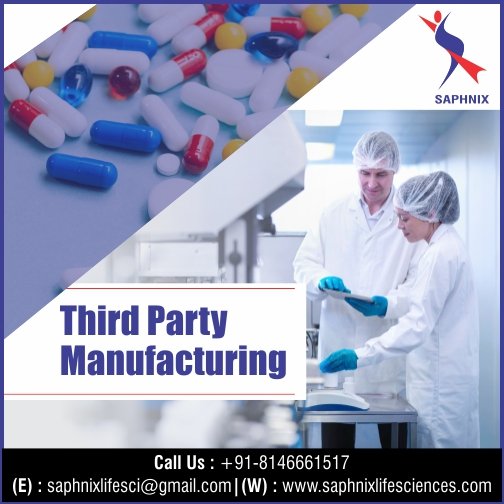 Many pharma companies have build trust in us and now having a successful pharma business in ophthalmic range. In case you want to avail our manufacturing services or want to know more in detail about our manufacturing plants and the company's policies. Feel free to call us anytime at +91-8146661517 or you can also drop us a mail at saphnixlifesci@gmail.com.
Saphnix Lifesciences 'Mushrooming Pharma Manufacturing for Ophthalmic Products
Our company is listed top in the list of top pharma manufacturing for Ophthalmic range companies in India. The reason behind our immense experience is the best quality range of drugs that are safe, pure and effective. Our company makes sure to do the proper and complete quality testing of the products before the final delivery of the products. When it comes to the ophthalmic range then all the pharma companies prefer to invest in us for the quality range.
All the drugs are perfectly produced by the intention to provide better healthcare treatment to customers. All the products are produced under Schedule M units. From the starting, we have been following all the strict quality guidelines laid down by the Indian Medical Association. Below highlighted are some of the key features of our company that help us to grow rapidly in the pharma sector:
Our company has a wide network of distributors and thus we are able to provide our services across the nation.
WHO and GMP certified products are only produced from our end.
The organization production is carried in the tax-free zone that reduces the burden of tax on clients.
Best quality ophthalmic ointments and gels are manufactured in the small particle, uniform, and non-gritty.
Manifold Range of Ophthalmic Drugs Offered for Pharma Manufacturing
At Saphnix Lifesciences you will get a diverse range of dosage formulations. Our company has covered a various ophthalmic range of drugs. While collaborating with Saphnix Lifesciences you can deal in a wide range of quality products. Our highly trained team of experts guide us for the development of updated and superior quality products. Below is our ophthalmic product range for manufacturing:
Lubricants
Steroids
Anti-biotics
Anti-allergics
Anti-inflammatory
Steroids with Anti-infectives
Diagnostic agents
Anesthetics
Mydriatics
Glaucoma agents
Anti-angiogenic ophthalmic products
Miscellaneous ophthalmic products
Become the strategic Partner of Our Organization to Get the Best Pharma Manufacturing for Ophthalmic Range
Saphnix Lifesciences have a good name in the pharmaceutical market for providing effective and outsourcing manufacturing services. From our end, genuine and economic deals of investment are being provided. The company understands that it is so difficult for a pharma company to manage sales and manufacturing simultaneously. Therefore by associating with you can lay emphasis on sales and marketing.
More than 200+ pharma companies have joined hands with us who are completely satisfied with our manufacturing services. We tend to meet the expectation of the clients regarding the diverse range or quality of products. The company has a good working environment and vast spread of manufacturing units. Along with the quality of the products we provide you various manufacturing facilities:
The organization provides good marketing and promotional support.
We have world-class infrastructure facilities at our premises.
A sophisticated way of packaging is adopted by the company such as blister packaging.
All our products are produced in the germ-free zone.
The company has a separate R&D team that keeps the products updated according to the existing market demand.
The company makes sure to provide the on-time delivery of products to its clients.
Each and every product is DCGI approved.
Contact Information
Name: Saphnix Lifesciences
Address: Village Barotiwala, Post Office Shivpur, Paonta Sahib – 173025, Himachal Pradesh, India.
Phone No: +91-8146661517
Email Id: saphnixlifesci@gmail.com