Third Party Manufacturer for OTC Drug
Third Party Manufacturer for OTC Drug- Saphnix Lifesciences is one of the most experienced Third Party Manufacturing Company in India. We, Saphnix Lifesciences are having a large scale capacity for the formulation of tablets, capsules, sachets, injections, syrups, oils etc for our respected pharma clients. We have well set up our manufacturing plant in Paonta Sahib, Himachal Pradesh. Saphnix Lifesciences is a well-known Third Party Manufacturer for OTC Drugs. All our Manufacturing units are upgraded and run under expert supervision.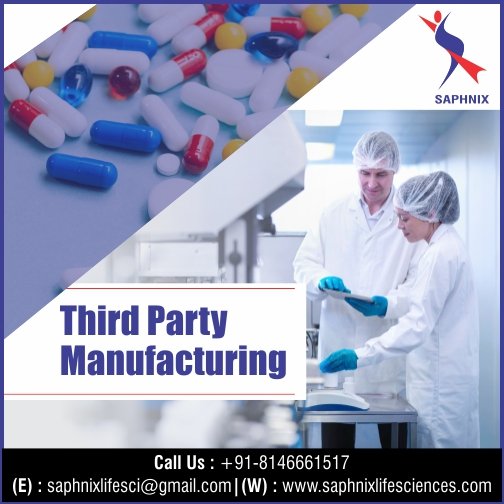 Globally, there is a huge requirement for OTC drugs. Over the counter, drugs are very popular and these kinds of medicines one can found easily at every household. To meet the requirements for the medicines, Third party manufacturer for OTC drugs are required on a large scale. For pharma company, a high-grade production unit is the base of the company. A quality product makes a positive image of the company in the market. Saphnix Lifesciences strictly follow the quality guidelines and this is the USP of the company.
For your third-party manufacturing details, please contact us through +91-9317000789 and for more information you can mail your queries at saphnixlifesci@gmail.com.
Saphnix Lifesciences –  An intelligent move for the Pharma Manufacturing Facility
Saphnix Lifesciences is the most trusted third party manufacturing company. The company produce and delivers high-quality products at the best prices. More than 300+ medicine formulations manufacture under our certified units. We never compromise on Quality and use high-grade raw material for production. Here are the highlights of our Manufacturing facility
GMP, GLP&WHO certified units and all are AHU's ( Air Handling Unit) which control the internal temperature and humidification.
DCGI and Lab tested medicines.
Special storage unit for raw materials and walk-ins are also available.
Water purifier plant also installed for medicine production.
Well qualified and professional staff
At Saphnix Lifesciences, we make sure that our esteem client feels safe and trust our quality blindly. We keep all deals transparent and no false promises made by us. Availing our facilities is very helpful for small or big size organization. We offer the same quality to everyone. No place for partiality.
OTC Range for Pharma Franchise Business
Our OTC range is quite popular in the market. Due to its effectiveness and purity, we considered as a market leader for the Third Party Manufacturer for OTC Drug. The company always in search of serious buyers, who wants to deal with genuine products. Our core focus is on quality and follows standard guidelines for medicine production. OTC medicines have a great market and demand for drugs are always on top. Here are products formulations which we offer in medicines-
capsules
tablets
Powders
Dry Syrups
Syrups
Gels
Creams
Injections
Oils
Sprays
Ointment
Eye-Drops
Sachet etc.
We at Saphnix Lifesciences always make sure to quality assured products. Only high-grade medicines come out from our State-art- manufacturing units.
Benefits of Investing in Third Party Manufacturer for OTC Drug by Saphnix Lifesciences
Selecting the company for Third Party Manufacturer for OTC Drug is a fruitful decision. Actually, one can see a genuine quality and profitable business. The company hold a very strong position in the market, being an old player in the market, it's our responsibility to deliver expected quality products. Here are the advantages of choosing us –
For small organizations, this facility makes their work easy and help in business expansion. The manufacturing facility makes easy to the business management to add on new products in the portfolio.
Both the company and the service provider get benefits. The manufacturing company can produce the same products according to the client orders at one time and the pharma company can outsource the product accordingly. This is a Cost-effective.
Owning own manufacturing units is a little costly and have to spend a lot of money on maintenance. The third-party manufacturing facility relived from this stress can focus on other official activities.
In a nutshell, taking services from the other manufacturing company is better and more profitable for the Pharma Business.
Term & Conditions of Saphnix Life Sciences
There are some terms and condition of every Manufacturing company that varies as per their nature and size of the business:
You will have to pay the transportation costs
We deliver our products after receiving advance payment only
All the Road permits and ways bill should be forwarded as required by the Sales Tax Department
No expiry, returns & breakages will be entertained by the company.
Contact Information
Name: Saphnix Lifesciences
Address: Address: S.C.O NO – 4, Dev Shopping Complex, Bhagat Road, Zirakpur, Punjab 140603
Phone No: +91-8146661517
Email Id: saphnixlifesci@gmail.com