Top Orthopaedic Medicine Manufacturer in India
Top Orthopaedic Medicine Manufacturer in India – Have you been looking for a reliable CDMO? Want to trade qualitative Orthopaedic range? If YES, collaborate with Saphnix Lifesciences. It is an ISO 9001:2015 certified pharmaceutical company that takes great pride in the manufacturing, supplying, and commercialization of low-cost, high-quality pharma medicines. The company has been in the comparable field since 2008. Hence, gain the most recognition with superior quality services. Now, it holds the tag of the Top Orthopaedic Medicine Manufacturer in India.
Saphnix Lifesciences is a leading Orthopaedic drug development and manufacturing organization that solidified its position by delivering high-end medicines. Our company works with a singular vision of transforming the lives of those suffering from chronic ailments. We work with experts and professionals to accelerate our business and improve the quality of our products. How can we do better? That's what makes us an innovative pharma company. In addition, our commitment to delivering life-altering medicines makes us the Top Orthopaedic Medicine Manufacturer in India.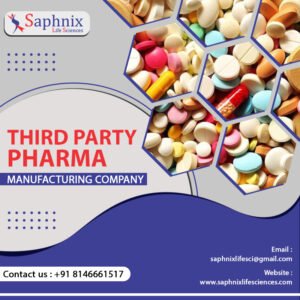 Learn more about us, get to know about our superior manufacturing services, have a look at our product portfolio, reach us at +91 8146661517 or drop an email us at saphnixlifesci@gmail.com.
Demand for Orthopaedic Medicine | Profitable Aspects
Due to changes in lifestyle, degeneration, and unhealthy diets, people face problems, such as Osteoarthritis, Rheumatoid Arthritis, Arthritis, etc. The cases of these conditions are on the rise. In short, the prevalence of Orthopaedic diseases is increasing rapidly. Along with that, the demand for low-cost, high-quality Orthopaedic medicines is also increasing. Though the healthcare sector evolves, the lack of suppliers and distributors is a major drawback.
In sum, those with these conditions can not afford to have expensive treatment. Individuals have a tough time finding the right medicines. For some Orthopaedic patients, medications are out of budget. While for others, these medicines are not even accessible. Therefore, government and pharma companies are helping individuals tap into this industry. Through it, they can make Orthopaedic medications accessible at every nook and corner of the nation.
Top Orthopaedic Medicine Manufacturer in India | Saphnix Lifesciences
As stated above, Saphnix Lifesciences is a leading pharmaceutical company that offers superior third-party pharma manufacturing services. The company has gained the most recognition throughout the nation by delivering what it promises. In addition, we are committed to offering top-notch quality pharma medicines to the masses. Also, we put customers first. In other words, we keep our business approach behind and go the extra mile for our valued clients. That's how we work.
Key Highlights of Saphnix Lifesciences:-
cGMP compliant manufacturing facility
Contamination free spacious warehouses
Backed by dedicated workforce professionals
Uses premium quality active raw ingredients
Manufactures high-end, low-cost pharma products
The above listed are the salient features of the Top Orthopaedic Medicine Manufacturer in India. In addition, the company is dedicated to building harmonious client relationships. This is our success mantra. You can also get success, join us.
Our Comprehensive Product Range | Top-notch Quality Medicines
Being the Best Orthopaedic Medicine Manufacturer in India, Saphnix Lifesciences manufactures and markets best-in-class pharma medicines. In addition, we have opted for a lean manufacturing methodology to benefit our customers. Also, we have employed expert R&D staff for first-right-time formulation. All above, our devoted team of workforce professionals drives success to the company.
Product Range of Saphnix Lifesciences:-
So, these are a few products from our exclusive pharma product range of antiOrthopaedic drugs. Get the product list by contacting us. We formulate Orthopaedic medicines that exceed the expectations of our clients. So, trade high-end antiOrthopaedic medicines by joining us.
Enjoy Working with Experts of Top Orthopaedic Medicine Manufacturer in India
We are nothing without our team of experts. It's our heart. In other words, we have hired people with a unique combination of education, experience, and expertise. They work round the clock to make us succeed. Also, they have devoted their professional careers to mark our valuable presence on the healthcare map. So, without thinking twice, collaborate with us. Enjoy working with a team of experts.
Team of Saphnix Lifesciences Consists of:-
Chemical engineers
Quality controllers
Management personnel
Qualified engineers
Sales and marketing professionals
To sum up, we have hired people with experienced hands and skilled minds. If you want to work with them, associate with the Top Orthopaedic Medicine Manufacturer in India. We are waiting to hear from you. So, don't hesitate, call us now.
Benefits of Joining Saphnix Lifesciences | Why Choose Us?
So, you might have thought, WHY CHOOSE US? To answer in brief, we deliver what is promised. Well, it's not enough?? Then, collaborating with us holds numerous advantages. An individual can enjoy hassle-free manufacturing. Also, we deliver top-notch quality pharma medicines. All above, we support you from our ends. Go through the below-listed points to know more.
On-time delivery
Attractive packaging
High-quality products
Genuine investment plans
24*7 customer support
Therefore, the above listed are the perks of joining Saphnix Lifesciences. So, what are you waiting for? Collaborate with us today. Are you eager to know more? Contact us through the most convenient method listed below.
Reach Out to Us!
Name: Saphnix Lifesciences.
Address: Village Barotiwala, Utrathya Paonta Sahib – 173025, Sirmaur, Himachal Pradesh, India.
Phone: +91 8146661517.
Email: saphnixlifesci@gmail.com.