Third Party Pharma Manufacturing in Vapi
Third-Party Pharma Manufacturing in Vapi: Looking for the best quality pharma products manufacturer in Vapi and nearby regions? Saphnix Life Sciences is the solution to all your requirements. Saphnix Life Sciences offers the best quality pharma formulation all across the nation. It has established itself as the Best Third-Party Pharma Manufacturing Company in Vapi.
Saphnix Life Sciences is the leading pharma manufacturer in India and is committed to producing the most effective range of medicines. These medicines are completely safe for use by customers. We are providing our contract manufacturing services to clients all over India. We are now inviting people from Vapi and other nearby regions such as Daman, Silvassa, Valsad, Dharampur, Navsari, Pardi, Tarapur, etc, to associate with the Top Pharma Manufacturer in Vapi.
If you wish to know more about us and take a step ahead to enjoy our third-party pharma manufacturing services, then get in touch with us at +91-8146661517 or drop us a mail at saphnixlifesci@gmail.com.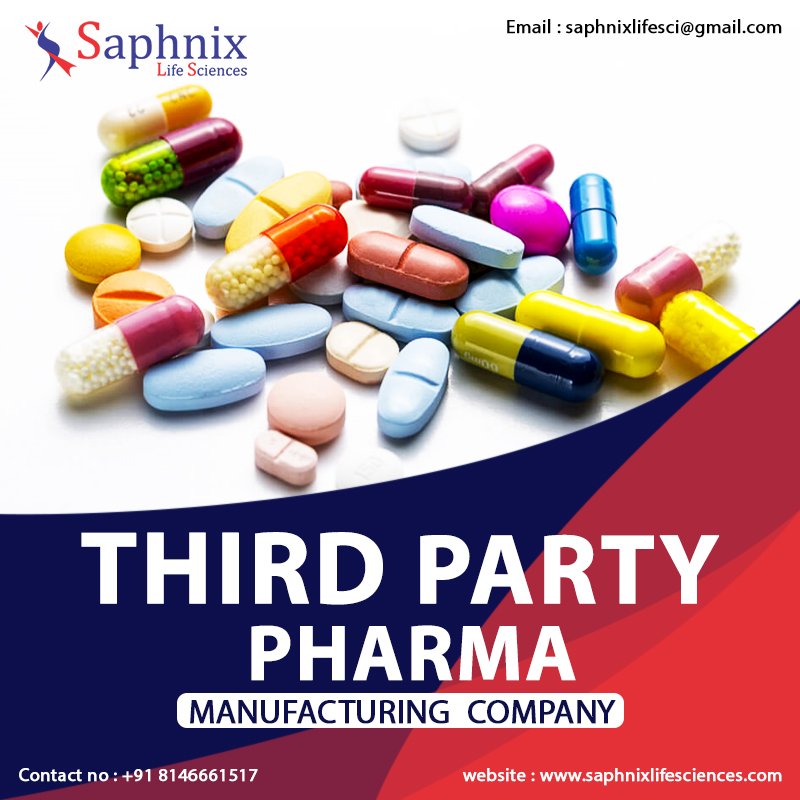 Extensive Product Range for Pharma Manufacturing
Saphnix Life Sciences manufactures a wide range of pharma formulations. We cater to the needs of clients all across the nation. We strive to manufacturer the exact formulation as is requested by the client. Our products are manufactured meeting all the national as well as international requirements. We manufacture an extensive range of pharma formulations as listed below:
capsules
tablets
injectables
eye drops
syrups
ointment
oral suspensions
sachets
These products are carefully manufactured maintaining the content of the medicinal formulations. This ensures the efficacy of our products. Therefore, you can trust Saphnix Life Sciences for contract manufacturing services throughout India.
Associate with the Best Pharma Manufacturer in Vapi | Saphnix Life Sciences
Saphnix Life Sciences is the leading pharmaceutical company engaged in the manufacturing and supply of pharma products. We have comprehensively designed our manufacturing units to ensure a smooth flow of processes with favorable conditions maintained at all times. Our production unit is equipped with state-of-the-art manufacturing facilities to manufacture the products with minimal wastage.
Our manufacturing units are fully certified as per ISO and WHO GMP standards. We constantly engage in delivering the best quality for our products to our clients. All these products are manufactured on advanced technologies that ensure minimal deviation.
exclusive product portfolio comprising of an innovative range of products
well-qualified and experienced team of professionals
research and development conducted to develop more innovative formulations
manufacturing facility located in the excise duty-free zone
well-connected transportation network to facilitate quick delivery
the ready availability of stocks at all times to meet demand
warehouses located at prime locations to support the safety of products
Saphnix Life Sciences is one of the most trusted pharma manufacturing company. We ensure complete satisfaction of our clients. We fully understand the needs of our customers and accordingly supply them the necessary products and services. This has kept us in the goodbooks of our clients. Our clients prefer us over any other pharma manufacturing company in the area.
Top Quality of Products formulation and  Packing and Labeling
Saphnix assures its clients of the quality of the products being manufactured in the plants. We have a well dedicated Quality Assurance Team that works for ensuring the safe quality of the products to be despatched to the clients. They scrutinize the raw material received from the suppliers before finalizing it for the manufacturing process. On successful testing, the raw material is sent for processing in the manufacturing units. They constantly maintain a favorable atmosphere in the plants to ensure the safety of the products being manufactured. They keep track of the temperature variations and maintain the appropriate levels.
The products being manufactured undergo testing and verification at several levels. And at the end, these are sent for testing and verification by the Drug regulatory authorities, whose approval is mandatory for marketing the products. All our products have been verified by drug regulatory authorities such as DCGI, FSSAI, etc.
Benefits of Third Party Pharma Manufacturing
Assigning the task of manufacturing the pharma products and limiting yourself to the marketing and distribution of those products. Sounds easier no! That is what is the concept of Third Party Pharma Manufacturing or Contract Manufacturing. You don't have to worry about looking for an appropriate piece of land for setting up a manufacturing plant and then conducting the research to manufacture the exact formulations, then getting various certifications, licenses, and what not. It's not an easy task to set up and operate a manufacturing plant. Thus it is always better to trust an experienced full-time manufacturer with the process of manufacturing the products.
Thus contract manufacturing enables you to focus on establishing a distribution network and simply selling the products further to the consumers. Without worrying about the manufacturing of these products. You can just focus on growing your business with your marketing skills.
Contact Information
Name: Saphnix Lifesciences
Phone Number: +91-8146661517
Email: saphnixlifesci@gmail.com