Third Party Pharma Manufacturing in Manesar
Third Party Pharma Manufacturing in Manesar-  India is a developing country in terms of education, technology, business, etc. But when we talk about healthcare, so the situation of pharmaceutical is not up to the mark. The reason behind is lack of medicine manufacturing. In India, there is a shortage of quality medicine manufacturer in various regions and cities. If we talk about Delhi's nearby cities like Manesar, Ghaziabad, Mehrauli. There is no quality medicine manufacturer which offer quality range there. If we talk about one city Manesar, then the localities visit Capital city for medicines, so there is a huge demand for Third Party Pharma Manufacturing in Manesar.
When it comes for Top Pharma Manufacturer Company In India, the one name is always on Top Saphnix Lifesciences. Our company is specialized for Manufacturing various medicine range and also offer its production services to the other pharma companies. We understand the medical importance, so we offer all medicines at the affordable range. We expanding our business PAN India. Now we are introducing our Third Party Pharma Manufacturing in Manesar. Now you can get quality medicine near to your house.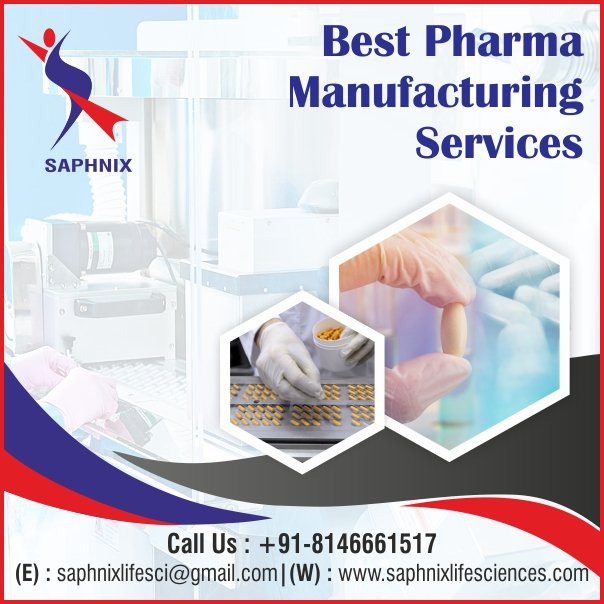 If you are interested in our business proposal, then dial our number +91-8146661517.  Now, get in touch with our experts to know more about our company and its pharma manufacturing services. For more information mail us at saphnixlifesci@gmail.com.
Why Manesar for Third Party Pharma Manufacturing?
Manesar is a growing city and near to Delhi. So here residing population is growing at its fast pace. But when it comes for good medicine, then the position is the same old backward. In Manesar, there is no as such pharma manufacturing service provider. So Saphnix has taken one step forward towards Manesar city to make people health better by providing them quality medicine range at every medicine segment. Our medicines are pocket-friendly for everyone.
We aim to cure, curable diseases by our medicines. This is not about the money, its about the health of people. We work on both aspects of health and a decent profit. Our Third Party Pharma Manufacturing in Manesar is hope for local people. By that, they no need to rush big cities for medicines.
Why Third Party Manufacturing Facility is Cost-effective for Other Pharma Companies?
Third party manufacturing is boon for small to medium size companies, who have limited access to the production facility. Outsourcing medicines is now trending in the pharmaceutical industry. By availing third-party pharma manufacturer services, the pharma companies can focus on other departments and can work on weaker areas for business growth.
This facility is great and effective if you collaborate with genuine manufacturers. For the pharma companies, Medicines are the base, so if the base is strong then no one stops the business growth.
Saphnix LifeSciences is the best Pharma Manufacturer in India
Saphnix Lifesciences is an ISO Certified Company. We are known for our third party pharma manufacturing services in India. We hold GMP&WHO certified manufacturing units where quality medicines produce. All production unit run under expert supervision, so there is no chance of any mistake. Our production units are highly-equipped and well maintained by our team. We use only quality ingredients and tested water for medicine production. hygiene is what which we cannot compromise.
After the manufacturing procedure, medicines are sent to the quality check department, where medicines are tested and after their approval only, medicines sent to the packaging department. All our medicines are DCGI approved. For medicine packaging, we use only quality wrapping material. 100% Quality Assurance of the Products.
Covered Segments by Our Quality Medicines
We offer medicines for various segments. We cover almost all major health problems. All medicines for the following segments are available at affordable prices. Here is the list:-
Antibiotics and antivirals
Multivitamins drugs
Gastric Resistance drugs
painkillers
Antifungal
Anti-bacterial and anti-fungal
Cardiac
Nervous system drugs etc.
This is not over yet. There are many more for Manesar. Our medicines are highly recommended by Health professionals and experts. So you no need to worry about it. Our medicine prices are fare as compared to others. Our manufacturing service us customer-centric.
Best Of Saphnix Lifesciences – Top Pharma Manufacturing Company in India
Our team is the pillars of our company. Our team is well-qualified and had good knowledge of the domain.
Our Team consists of:
Pharmacists
Chemists
Skilled Labourers
Laboratory Staff
Quality Control Officers
Sales & Marketing Experts
Warehousing & Packaging Personnel
Manesar is the right region for a Manufacturing business as there is a good demand for quality pharmaceutical products in this region.
Contact Information
Here are the contact details of our company through which you can easily contact us without any hesitation.
Name: Saphnix Lifesciences
Address: Village Barotiwala, Post Office Shivpur, Paonta Sahib – 173025, Himachal Pradesh, India.
Phone No: +91-8146661517
Email Id: saphnixlifesci@gmail.com