Third Party Pharma Manufacturing in Jharkhand
Third-Party Pharma Manufacturing in Jharkhand- Medicines are really important for everyone. People consume medicines on a large scale. As we all know every second person suffering from various health issues and to cure such bad problems proper medication is really important. As the demand for medicines is growing the production also required on a large scale. So to help people our company Saphnix is known for its manufacturing. For now, we are introducing our Third-Party Pharma Manufacturing in Jharkhand. This is such great support and facility for local pharma companies and people.
Saphnix Lifesciences is a popular third party pharma manufacturing company. Our company is an ISO Certified and mainly involve in quality products and offer a wide range. We also offer production facilities for other companies also. As of now, we are providing our Third-Party Pharma Manufacturing in Jharkhand. This is such a great help and good opportunities for career seekers also.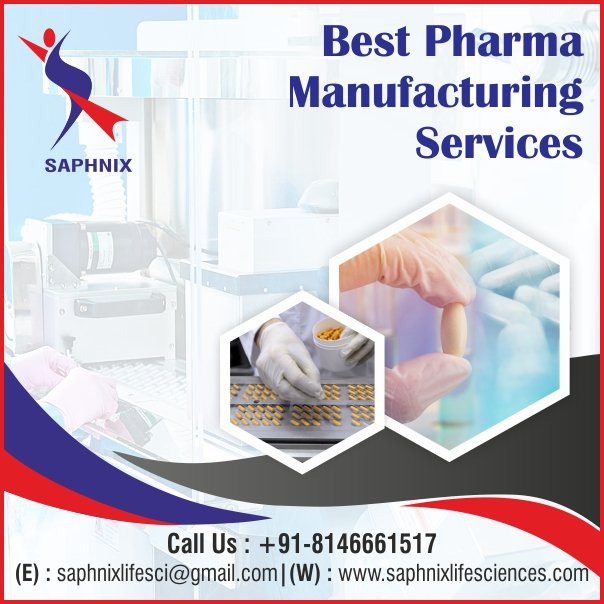 For any business requirement in the business sector kindly contact us at +91-8146661517  or you can also send us a mail at saphnixlifesci@gmail.com. Our team is always here to listen to your queries and questions and give you a good response.
Saphnix Lifesciences – Top Third Party Pharma Manufacturing Company in India
Saphnix is a popular name in the pharmaceutical sector. We mainly involved in safe medicine production. The Excise-free zone is installed with our pharma manufacturing units. Medicine production is done through all the latest or updated machinery available. These particular manufacturing plants are also certified by GMP, GLP& WHO. Experts supervision is provided all the units and hygiene factor is maintained to the full extent in our units. All the medicines which are produced here are highly safe and effective. Here we produce medicines in various formulations like capsules, tablets, injections, oils, creams, syrups, gels, etc.
Quality control is done on a regular bases and only the quality comes out from our units. There is a separate department for quality control to have the quality analysis done on all the produced products and check the nature and reaction of the human body. Once it is approved by the quality department then only it moves to the next step. The next step in this specific process is the packaging. Safe and moisture-free packaging is done to procure the products for long and to be in good condition.
For making the availability of medicines in every area we also provide our production facility. For now, you can choose our Third Party Pharma Manufacturing in Jharkhand. This is a big advantage for career seekers and pharma professionals.
Here are some more reasons to choose us:
Good customer service
Promotional Support
Spacious warehouses
Wide range of Products
Authenticated services
Advantages of Investing In Third Party Pharma Manufacturing in Jharkhand
There are a number of perks for choosing contract manufacturing for pharma companies. Following are some of them:-
Reducing cost:– When the pharma company outsources its manufacturing to third party clients, their main focus is to lower its operational cost. This outsourcing will help them to reduce their expenses and increase the investment and with that particular investment, they can buy raw material in bulk with will enable them to work at lowe prices which in return will increase their output and ultimately the profit.
Increasing Capacity:- A company should be ready for unusual circumstances int the business. When the business grows it is a good sign for investors and owners and they should also have the capacity to meet the market demand. For the visibility of our product in the market, we always meet demand with supply so that the customer doesn't shift to other similar products available in the market. For that our company outsources some of the operational processes to the third party so that we can have a maximum acquisition in the market.
Focusing on new product innovation:- In our business, we keep on researching new products so that we can bring innovation in the market. Our Third Party Pharma Manufacturing in Jharkhand allows you and your team to focus on bringing new products to market that meet your customers' current needs.
Saphnix's Terms and Conditions
There are certain criteria for those who associate with us. Here is the list of the rules-
Transportation fare bear by the business associates
At least, order price should be 10,000/-
Extra cost on promotional and marketing tools
Genuine dealing, no hidden clause
These are the things that make us transparent and genuine in the market. We make sure that our business partners get a good response from the market and do great business in the pharmaceutical sector.
Contact Information
Name: Saphnix Life Sciences
Address: Village Barotiwala, Post Office Shivpur, Paonta Sahib – 173025, Himachal Pradesh, India.
Phone No: +91-8146661517
Email Id: saphnixlifesci@gmail.com