Third Party Pharma Manufacturing in Gujarat
Third Party Pharma Manufacturing in Gujarat – Third Party Pharma Manufacturing is no longer remain a new term for pharma companies. Today many pharma companies are expanding their business through 3rd party manufacturing. Saphnix Life Sciences is one of the fastest growing pharmaceutical company in India. By looking at the demand for third-party manufacturing companies in Ahmedabad, Gujarat our company has set up its Third Party Pharma Manufacturing in Gujarat. Many reputed pharma companies have joined hands with us because of our quality assurance, timely delivery, effective formulations, and safe medicines. 
The pharma companies are looking for multiple drug segments and that demand is fulfilled by Saphnix Life Sciences. All our drugs and medicines are manufactured by using computerized technology and hi-tech machinery. It is not easy to manufacture pharmaceutical products, it requires a lot of formalities and efforts. That is why most of the pharma companies are looking for Third Party Manufacturing in Gujarat. We are offering third-party manufacturing services in all the cities of Gujarat like Surat, Ahmedabad, Rajkot, Vadodara, Gandhinagar, Junagadh, Jamnagar, Porbandar, Bhavnagar etc. Collaborate with us to get best and genuine deals for manufacturing.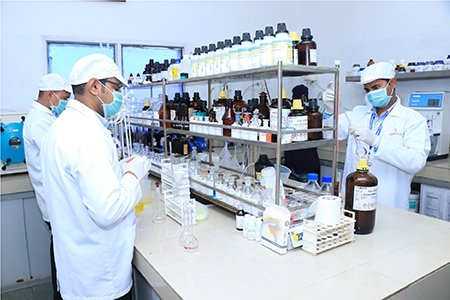 Here at Saphnix Life Sciences, you will get medicines in all the dosage formulations like tablets, capsules, injections, syrups, sachets, cream, lotion, ointments, etc. We make sure to satisfy our clients and deliver what they demand. In order to avail our manufacturing services in Gujarat Region or want to get all the information regarding our company. Just give us a call at +91-8146661517 or you can also drop a message via email at saphnixlifesci@gmail.com.
Benefits of Investing in Third Party Manufacturing Service
Choosing the right company in Gujarat is as important as choosing the business sector. Making your mind for expanding your business through third-party manufacturing is not the only thing to do. The major decision you have to make for your business is to choose the right company to partner with. Third Party Manufacturing is the best way to expand your business by reducing the cost of technology, machinery, and technical staff.
You can focus on selling your pharma products by earning a good profit return. Moreover, pharma manufacturing from the third party will reduce your cost and possibly speeding new products to market. Therefore if you are choosing reputed third-party manufacturing in Gujarat then it will definitely help you to grow your business well.
Leading Third Party Pharma Manufacturing Company in Gujarat – Saphnix Life Sciences
Saphnix Life Sciences has only one motive that is to manufacture high-quality, affordable and effective for pharma companies. It makes pharma companies focus on the main competition of research and marketing. We are an ISO certified company along with GMP and WHO production units. Our company is providing an extensive range of pharmaceutical products to healthcare industries at the most reasonable prices. From the very beginning, the company is dedicated to delivering medicines and drugs with supreme quality and innovative formulations.
The key feature of our company is to expand the manufacturing business throughout India by satisfying the customers. In Gujarat, there is a good scope of the pharmaceutical business. Our manufacturing unit is established in the excise free zone which reduces the burden of tax on pharma companies. Apart from this we regularly update our products range according to the demand in the market. Here is a list of services that we provide in third-party manufacturing:
Our company makes sure to provide you with quality assurance with chemical testing and clinical trial.
We are capable to bring flexible outsourcing of medicines and drugs with efficient use of resources.
We follow the global standards of manufacturing like DCGI, WHO, FSSAI for quality manufacturing of medicines.
Our company also laid emphasis on quality packaging to avoid contaminated medicines.
We have highly trained team of experts that is engaged in formulating the innovative and effective medicines that give no side effects results.
Extensive Product Range Provided by Third Party Pharma Manufacturer in Gujarat
Due to our world-class third-party manufacturing facilities, we are efficient in manufacturing a diverse range of drug formulations in several segments. We are completely dedicated to the quality of medicines and thus our medicines are recommended by many professional doctors.
We are focused on keeping up exclusive requirement manufacturing practice to guarantee the security and virtue of drug. Our quality administrators play out the quality test at each dimension of assembling in this way, we have an immense client base all over India. Below is the product portfolio of our company:
Antibiotic for child and adult
Powders for oral and external use
Ayurvedic, Homeopathic and Herbal range
Dry or Parenteral Injection
Topical Solutions for derma range like ointments, creams, lotions, etc
Syrup Range covering Dry Syrups, Drop Syrups, Oral Suspensions, Tonics, etc.
Pain Killer Range of Tablets, Capsules, Injections, etc
Sachets of all quantities
Dropper Medicines for Pediatric Range, Ophthalmic Use, etc.
We manufacture those medicines which cover almost every segment. Our medicines are made from high-grade ingredients and we follow the quality control procedures in our production units.
Procedure for Third Party Pharma Manufacturing in Gujarat
The manufacturing process in the third party undergo numbers of the process. Being the top Third Party Pharma Manufacturer in Gujarat, Saphnix Life Sciences works with complete transparency with its associates. Here given below is more information about the manufacturing at Saphnix Life Sciences.
Costing for Third Party Pharma Manufacturing in Gujarat
The client will be charged on the bases of expenditure which has been done in the entire process of manufacturing. Right from the very beginning till the transportation. Given below is the much-simplified version of the costing process for our associates:
Cost of Raw-Materials – Active and excipients.
Cost of Packaging Material Includes the following –

PRIMARY cost (Printed Packaging Material- Foil, Cartons, Labels)
SECONDARY cost (PVC, Shippers, tape, packing slips, strips etc)

Batch Charges – This will include the consumables cost, Quality control Costs & Local transportation.
In Process loss for RM & PM.
Manufacturing Charges by the Company.
Contact Information
Name: Saphnix Life Sciences
Address: Village Barotiwala, Post Office Shivpur,Paonta Sahib – 173025, Himachal Pradesh, India.
Phone No: +91-8146661517
Email Id: saphnixlifesci@gmail.com.
Gujarat being the home of numbers of Pharmaceutical Company which are marketing and research base need the reliable 3rd Party Pharma Manufacturer. Saphnix Life Sciences delivers what it takes to be the top third-party manufacturing pharmaceuticals & surgical Ahmedabad, Gujarat or the best pharma manufacturer in Ahmedabad. Be the part of one of the best and reliable third-party manufacturing pharma companies in Gujarat.