Third Party Pharma Manufacturing in Bangalore
Third Party Pharma Manufacturing in Bangalore – With booming pharmaceutical sector in Bangalore, marketing and research-based pharmaceutical companies are being set up. Top third party Pharma Manufacturer, Saphnix Life Sciences is involved in the manufacturing of various medications for such companies. With the third party Pharma Manufacturing in Bangalore, it has become easy for the small, medium and also for the MNC to reduce their production cost and rather focus on research and marketing. 
Saphnix Lifesciences is the leading manufacturer, supplier, and trader of pharma medicines, drugs, and products. The company is well known for providing its best 3rd party manufacturings services. On the basis of the client's demand, our company produces active pharmaceutical ingredient (API). At our premises, we have modern and advanced machinery and technology that help us to produce the products in bulk quantity.
Our manufacturing process takes place under WHO and GMP certified units. We have a tendency to meet the ongoing demand of pharma products in the existing market. Collaborate with us and get top Third Party Pharma Manufacturing in Bangalore.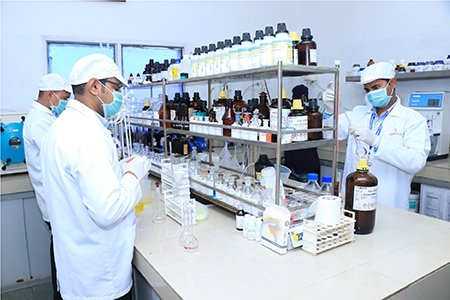 The organization assures you to provide all the range of drugs in various dosage formulations. If you are willing to take our manufacturing facilities or want to anything about our company. Feel free to call us anytime  +91-8146661517 or you can also send your query via email at saphnixlifesci@gmail.com. Our team of members is always here to listen to your queries and questions.
Advantages of Third Party Pharma Manufacturing Company in Bangalore
Instead of starting your own manufacturing company it is way better to go for the pharma manufacturing company. As own manufacturing involves a lot of stress, facilities, documentation, infrastructure etc. and this is very difficult for the pharma company to manage. Those pharma companies who have opted the third party manufacturing services are running their business successfully. Below are some advantages highlighted below:
Cost-Effective Manufacturing: The manufacturing involves a lot of costs as you need to hire a separate R&D team for the development of drugs and medicines. This will cost a lot to you and therefore opting manufacturing services will reduce your production and labor cost.
Advanced Technology: pharma products need modern skills and advanced technology. And a pharma company who is already in the stress of sales and marketing cannot lay emphasis on production. On the other hand, third-party manufacturing has the skilled expertise to manufacture the products in the most efficient manner.
Goodwill: By opting with the third party manufacturing company you can build your reputation in the market. As such you are dealing in the wide range of best quality pharma medicines and products. And we all know that customers only demand the quality products.
Less Investment: With the help of pharma manufacturing company you can expand and grow your business at low investment. A reputed and trustworthy company will always provide you high-quality products at genuine prices.
Operational Services: As per your requirements third-party manufacturing will provide you on-time delivery, effective packaging, and marketing.
These above following are the addons which you can get after associating with us.  As the top third party pharma manufacturer in Bangalore, it's our responsibility that at every location people get quality medicines at affordable prices.
Why Saphnix Lifesciences Company is Recognised as Top Third Party Manufacturing in Bangalore?
Saphnix Lifesciences is a prominent name in pharma manufacturing. As the company is working for many years in the field of manufacturing and has associated with many pharma companies. Till now we have only received positive feedback from the customers. We deal in the wide range of medicines and their dosage formulations such as tablets, capsules, sachets, syrups, ointments, lotions, injections etc. There are numerous benefits that we provide to our associates:
Saphnix Lifesciences provide complete marketing and promotional assistance to their partners.
The company offers more than 500 pharma products.
All our products are DCGI approved.
By associating with us you will get WHO and GMP certified products.
We have covered all the healthcare categories in our drug range.
Our produced products are highly demanded because they have lesser side effects.
The company assures to provide timely delivery of products to the clients.
This is our highlights and there are much more. Allow us to serve you for your business. Our quality products will never let you down and we assure that you will get positive feedback for the medicine range. Our manufacturing units in Banglore is on top charts.
Manufacturing Capacity of Saphnix Life Sciences for 3rd Party Manufacturing
Saphnix Life Sciences had a sophisticated and fully integrated pharma manufacturing facility. With state-of-art manufacturing facilities, the company not only provide exceptional quality but also capable of carrying out large scale production. We take bulk order for third party pharma manufacturing in Bangalore for the following and many other categories:
Tablet Composition:- Cefixime 200/100 mg and Potassium Clavulanate 125/62.5 mg
Cefpodoxime 200/100 mg and Potassium Clavulanate 125/62.5 mg
Capsule Composition:- Clopidogrel 75/75 mg and Aspirin 75/150 mg Capsules
Rosuvastatin 10/10/20 mg and Aspirin 75/150/75 mg Capsules
Ointment Composition:- Clotrimazole 10 mg, Beclomethasone Dipropionate 0.25 mg & Neomycin 5 mg Cream
Ciprofloxacin HCl 0.5 %, Flucinolone Acetonide 0.025 %, Clotrimazole 1%& Zinc Sulphate 1% Cream
Our manufacturing units are well equipped and only quality medicines come out from it. Now you can avail our manufacturing facility in Bangalore. Our affordable pricing is the best for others.
Quality Assured Measurements for Pharma Manufacturing in Bangalore
100% quality assured drugs are provided to the clients by Saphnix Lifesciences. As our team is completely dedicated to providing the best quality medicines. At every level of manufacturing our supervisors do a complete check of the quality. Our organization tends to follow all the strict quality parameters laid down by the Indian Medical Association. In order to make sure that only quality products are being produced we make use of high-quality ingredients and rich resources. Addition to this we have a separate warehousing facility to keep our products safe and hygienic.
Don't trouble yourself in both manufacturing and sales when you have the option of going with the manufacturing company. Our company is looking forward to associating with many reputed pharma companies. For any further details contact us.
Contact Information
Name: Saphnix Lifesciences
Address:  Village Barotiwala, Post Office Shivpur, Paonta Sahib – 173025, Himachal Pradesh, India.
Phone No: +91-8146661517
Email Id: saphnixlifesci@gmail.com