Third Party Pharma Manufacturer in Bihar
Third-Party Pharma Manufacturer in Bihar – Bihar is considered as the least developed state in India. This is an unnoticed state by the big industrialists, manufacturers. Although, if we talk about the health conditions then people here are in deep crisis. No proper availability of medication. To improve the health and wealth of the state, Saphnix Lifesciences introduces its pharma manufacturing services in Aurangabad, Banka, Arwal, Araria, Bhagalpur, etc. Being a responsible Third-Party Pharma Manufacturer in Bihar We ensure to provide necessary medicines and a good business opportunity to career seekers.
Our company Saphnix Lifesciences is an ISO, GLP&WHO Certified company. We involve in third party manufacturing services and offer our production facility to other pharma parties. We offer our manufacturing services at almost every state. For now, exclusively we offering our production facility in Patna, Muzaffarpur Bhojpur, Buxar, etc. Being a Third-Party Pharma Manufacturer in Bihar we intend to provide quality medication at the justified prices. Anyone can join us and can open a profitable business in the pharmaceutical sector. You can fully trust our medicine quality.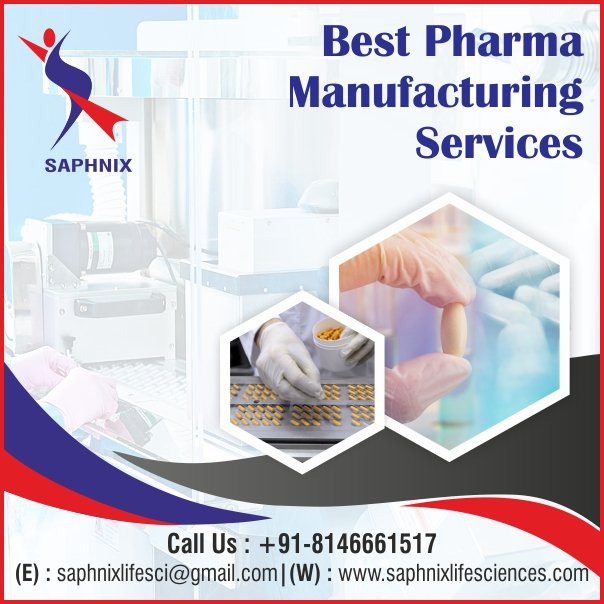 For any further assistance regarding our third-party manufacturing facility in Bihar, you can give us a call at +91-8146661517 or mail us at  saphnixlifesci@gmail.com.
Top Third Party Pharma Manufacturer in Bihar – Saphnix Lifesciences
Our company has a popular and respectable name in the pharmaceutical sector. We focused on delivering high-quality medicines. Our dedicated team is highly professional and well-experienced which work-hard with a motto only Safe drug production. We have the latest technology machinery which produces a vast medicine range. All our manufacturing procedures handled by our expert team. All work runs under surveillance. We offer medicines at various formulations like capsules, tablets, injections, oils, ointment, syrups, sprays, etc. For medicines, we use only safe and effective raw material. All our products cover various segments like derma, Neuroprotective, Antibacterial, Neuro-Psychiatry, Anti Malarial, Gynecology, Gastroenterology, Hormonal & Nutritional. Antispasmodic and Antiemetic, pain Killers, etc.
To test the product quality we have a quality check unit in which our testing team performs various quality check procedures. Our team makes sure that only quality medicine came out of our company. Moreover, we have a corporate quality control body, this looks after the quality of the medicines at every level of manufacturing. We assure you the best quality of formulation which matches the international level of manufacturing.
After that, all the DCGI approved medicines sent to the packaging area. Here all drugs packed in safe material and then forward to warehouses. Our high-quality products provide quality of life for patients. Our R&D efforts push ourselves to make the future bright and healthy.
Highlights Of Our Pharma Manufacturing in Bihar
We are a popular and reputed name in the pharma market. Our development pipeline is focused on highly innovative therapies that help people with their lives. We are committed to enhance the communities where we operate, provide better health to the patients. We work with one aim, Make the people healthy and to make it possible we are expanding our manufacturing services. Our Third Party Pharma Manufacturer in Bihar is a single roof solution for the local people.
Faster Time to Market
Brand Control
Better Customer Data
Price Control
Sales and Operations Planning
Over the years Saphnix has won the trust of healthcare professionals who are exceptionally well in what they do. The quality is our prime concern and we work to meet our goal to provide high quality yet affordable product range at any cost.
 Third-Party Pharma Manufacturing Supply in Bihar
Well, we are covering all the areas in this state. Our Third Party Pharma Manufacturer in Bihar helps to meet the medicine demand in the market. This is the best way pharma companies can put their most time in research and marketing.
Following are the areas where you can approach us for production services:-
Araria
Aurangabad
Arwal
Banka
Bhagalpur
Begusarai
Buxar
Bhojpur
Gaya
Champaran
Darbhanga
Jehanabad
Jamui
Kishanganj
Kaimur
Khagaria
Madhubani
Lakhisarai
Munger
Muzaffarpur
Nalanda
Patna
Nawada
Rohtas
Purnia
Sitamarhi
Supaul
Vaishali
Siwan
We are doing our best to make Bihar state healthy. Associate with the leading Third Party Pharma Manufacturer in Bihar and get the chance to start a successful business. Saphnix Lifesciences provide you with mutual benefit which is great for the growth of your business.
Advantages Of Associating with Our Pharma Manufacturing Services
There is nothing wrong to ask for facilities provided by us, Our Company has been contributing to this sector for many years so we know the exact demand of our customers. We make a valuable partnerships by delivering what we commit. This is what makes us the best name in the Pharmaceutical sector.
Following are the services that are provided by us :-
Well-established infrastructure unit through which we deliver the quality drugs
The wide range of product range such as allopathic products.
Covering a wide area of Bihar to introduce ourselves as the widespread Third Party Pharma Manufacturer in Bihar.
Regular Incentive at the time of meeting the annual Income.
On-time delivery of all products PAN India and all parts of Bihar
Good tie-ups and network and a good name in industry
Quality packaging for all products to ensure long shelf life
Warehousing system to keep products safe and germ-free before delivering them to the clients
Regular updates about the latest trend in the Pharmaceutical Industry
Contact Information
NAME:  Saphnix Lifesciences
ADDRESS:  Address: S.C.O NO – 4, Dev Shopping Complex, Bhabat Road, Zirakpur, Punjab 140603
PHONE NO: +91-8146661517
EMAIL ID:  saphnixlifesci@gmail.com