Third Party Manufacturing Company in Uttar Pradesh
Third Party Manufacturing Company in Uttar Pradesh – In the competitive and fast-paced pharma sector, it is better to choose Third Party Manufacturing instead of setting up your own manufacturing unit. Nowadays most of the established pharma companies want to focus on their marketing and sales and that is why they are investing in third-party pharma manufacturing. 3rd party manufacturing is an excellent alternative for pharma product manufacturing. Companies like Saphnix Lifesciences top Third Party Manufacturing Company in Uttar Pradesh are providing pharma manufacturing at a lower cost. Invest in our company even if you have better resources.
To get the complete advantage of third party manufacturing you need to select the best pharmaceutical third party manufacturer always to avoid any quality, delivery, and supply issues in the near future. Therefore here we are introducing you to Saphnix Lifesciences who is recognized as the leader in the pharma industry. The company is backed with the professional team and state-of-art manufacturing facilities that ensure quality-oriented products are delivered from our end. As an authorized Third Party Manufacturing Company in Uttar Pradesh, we maintain quality measures at all stages from material purchase, process reorganization, testing, and control.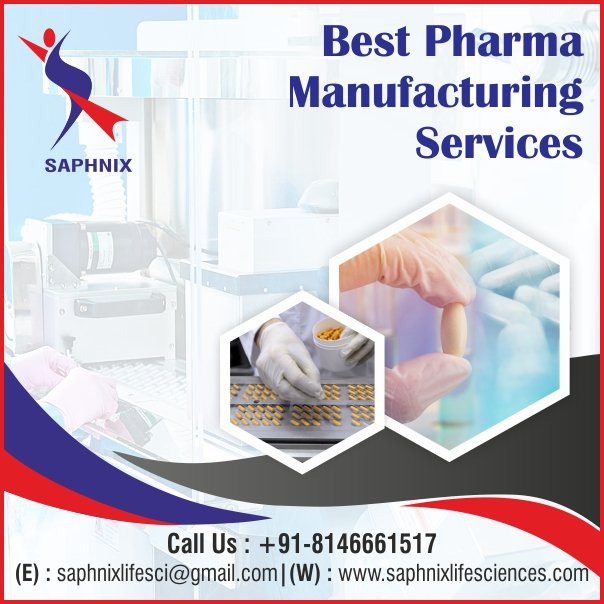 For any further information about our company and its pharma manufacturing services in Uttar Pradesh, you can give us a call at +91-8146661517 or mail us at saphnixlifesci@gmail.com.
Modern Infrastructure for Third Party Manufacturing
Our premises are equipped with world-class machinery, equipment, tools, and devices. We have adopted advanced technology for the formation of a unique and effective range of products. At Saphnix Lifesciences everything is defined and organized with the latest machines which include cutting-edge tools for efficient production. We ensure that our machines are capable of providing maximum output to our strategic clients. Furthermore, we have a spacious warehousing facility for storage or a large number of products.
Here we have listed the points that highlight our infrastructure:
Our manufacturing facilities make us capable to provide excise free zone to clients.
An eco-friendly and hygienic working environment is provided to the workers and so that they work without any obstacles.
Chemical laboratories are set up in our company that is efficient in removing any possible adverse effects.
We upgrade our machinery and techniques to provide effective output and products that meet the high market demand of customers.
At Saphnix Lifesciences the units are set according to Schedule M.
Quality Measures Followed At Saphnix Lifesciences
The team of Saphnix Lifesciences is working hard to bring the pharma product range in the market that is produced in accordance with international quality standards. The organization is providing full advantages to its associates through its wide range of quality products. We maintain the quality of products at any cost and for this, we have a separate quality control department who examines the production and dispatching process of medications.
The cost-effective production method is adopted by us
Our products comprise of purity, safety, effectiveness, durability, etc.
The complete range is packed with the Air-tight and Leakage proof packaging material.
Our researchers upgrade the product list according to the changing market demand.
You will get an extensive product portfolio at an affordable cost.
Trusted Third Party Pharma Manufacturing in Uttar Pradesh
Saphnix Lifesciences is a prominent third party manufacturing company in India. Right now the company is targeting Uttar Pradesh and fulfilling the demands of people residing in cities of UP. In a short period, we have made a remarkable position in the competitive market of Uttar Pradesh. By shaking hands with our company you can avail the third party pharma manufacturing in your desired region.
Agra.
Aligarh.
Allahabad.
Ambedkar Nagar.
Amethi (Chatrapati Sahuji Mahraj Nagar)
Amroha (J.P. Nagar)
Auraiya.
Bagpat
Gorakhpur
Jhansi
Kanpur
Lucknow
Meerut
Mirzapur
Varanasi
Saharanpur
What Make us Top Third Party Manufacturing Company in Uttar Pradesh?
When it comes to choosing the most trusted and reputed third party manufacturing company in Uttar Pradesh then Saphnix Lifesciences is listed at the top. Along with the best business deals we are providing great marketing strategies that help both our associates and company to reach the pinnacle of success. The company is emerging with the fast-paced pharma industry and only deals in highly demanding pharma segments and formulations. We deal professionally and transparently with all the clients and that is why today we have more than 300+ clients associated.
Here are some of the reasons that make us best among others:
Most of the pharma companies prefer us because of our wide pharma range i.e, Antibiotic, Antidiabetic, Anti Allergic, AntiFungal, AntiCold, AntiHypertensive, Multivitamin drugs, Dermatology Ointments, Gynecology, etc..
On-time delivery of clients' orders is our first priority.
Our clients will get quality products with the best packaging material
The company has a germ free warehouse which is used to store the products.
All the manufacturing of medicine takes place in WHO, GMP and ISO certified state-of-art manufacturing facility.
Contact Information
NAME:  Saphnix Lifesciences
ADDRESS:  Address: S.C.O NO – 4, Dev Shopping Complex, Bhabat Road, Zirakpur, Punjab 140603
PHONE NO: +91-8146661517
EMAIL ID:  saphnixlifesci@gmail.com