Top Antifungal Cream Manufacturer in India
Top Antifungal Cream Manufacturer in India – Anyone can get a fungal infection, even healthy people. The prevalence of antifungal infections is increasing rapidly. To be precise, the demand for antifungal medications, such as creams, is high nowadays. Those who want to leave 9 to 5 dystopia consider what it will be like to own a business. They want to enter the pharma space. However, establishing a pharma company without a manufacturing plant is not possible. So, they look for the Top Antifungal Cream Manufacturer in India and land here.
You can collaborate with Saphnix Lifesciences. It is an ISO, GLP, and GMP certified pharma company in India. We take pride in the development and manufacturing of top-notch quality antifungal medicines. It has taken substantial experience in the comparable sector. With extensive experience and expertise, we offer superior third-party pharma manufacturing services to individuals and clients. Enjoy hassle-free manufacturing, associate with the Top Antifungal Cream Manufacturer in India.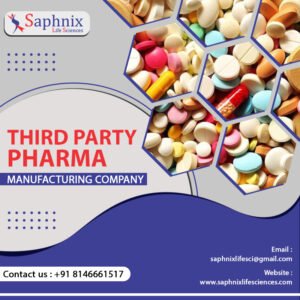 Learn more about our manufacturing services, meaningful product pipeline, and quality assurance by calling us at +91 8146661517 or email at saphnixlifesci@gmail.com.
Demand for Antifungal Cream in India | Profitable Aspects
Antifungal Creams are prescribed to treat fungal infections with minimal side effects. These medications work by killing fungal cells. Once in a lifetime, an individual faces this condition. In short, the prevalence of fungal infections is high. Also, with the increasing prevalence, the demand for antifungal creams is increasing dramatically. Therefore, pouring money on these products is worthwhile.
Aside from that, in some locations, high-end antifungal drugs are not accessible or available but are expensive. It indicates the extreme need for distributors and suppliers. So, if you have been looking forwards to trying your hands over the antifungal range, collaborate with Saphnix Lifesciences. It is the Best Third-party Pharma Manufacturing Company in India.
Top Antifungal Cream Manufacturer in India | Saphnix Lifesciences
Incorporated in 2008, Saphnix Lifesciences has marked its presence on the healthcare map with its best-in-class pharma manufacturing services. The company possesses industry expertise and the ability to overcome complex challenges associated with production. In addition, our flexibility and commitment towards humanity allow us to exceed the clients' expectations. All above the fact, we work with a bold mission of creating and delivering value to our customers through pharma manufacturing and development services.
Key Highlights of Saphnix Lifesciences:-
cGMP compliant manufacturing facility
Contamination-free spacious warehouses
Dedicated workforce professionals
Advanced quality control equipment
Adherence to the latest guidelines and norms
The above-listed salient features make the Top Antifungal Cream Manufacturer in India – Saphnix Lifesciences – stand out from the crowd. Moreover, its tendency to go the extra mile makes it an accurate business partner. Without thinking twice, collaborate with the company.
Take a Glance at Meaningful Product Pipeline | Approved Products
We are in a great position due to our product quality. In short, we formulate top-notch quality pharma medicines using 100% pure active raw ingredients. As a result, our pharma medicines are high-in-demand in the pharma marketplace. Also, we do in-depth research for each molecule/formulation. That's what drives success to our business. So, if you want to trade high-end antifungal creams in your territory, contact us.
Our Antifungal Products:-
Itraconazole Cream
Terbinafine Hydrochloride Cream IP
Itraconazole and Terbinafine Hydrochloride Cream
Clotrimazole Beclomethasone Dipropionate & Neomycin Cream
Sertaconazole Nitrate and Beclomethasone Dipropionate Cream
The proprietary development platform and a team of experienced scientists help us formulate top-notch quality pharma medicines. So, enjoy hassle-free manufacturing outsource your production to Saphnix Lifesciences. We're waiting to hear from you.
Enjoy Collaboration with Experienced Scientists | Join Us Today!
You'll enjoy working with our devoted team of professionals. In other words, we believe in diverse hiring. Saphnix Lifesciences has employed people with a unique combination of skills, education, and expertise. Our medical personnel has devoted their professional careers to altering the life of patients. Therefore, we never miss any opportunity to reward them. Also, we motivate them frequently to foster productivity.
Team of Saphnix Lifesciences Consists Of:-
Chemical engineers
Quality controllers
Management personnel
Production staff
Qualified engineers
So, enjoy working with a team of professionals by associating with the Top Antifungal Cream Manufacturer in India. We invite you to be our part and make your business reach the heights you have envisioned for it. Don't delay. Success is waiting!
Advantages for Joining the Top Antifungal Cream Manufacturer in India
With expertise, flexibility, and resource, we provide a full range of pharma development services to clients. Alongside, we seek harmonious client relationships. So, we don't disappoint our customers by any means. In short, we help them reach greater heights with support from our ends. All above, we have been the foundation of giants.
Benefits of Joining Saphnix Lifesciences:-
Firstly, on-time delivery
Secondly, we have 24*7 open lines
Thirdly, Attractive Packaging
Lastly, 100% stock availability
So, what are you waiting for? Enjoy the best benefits from the pharma field by collaborating with the Top Antifungal Cream Manufacturer in India. Do join hands with us for success. Tell us your requirements, challenges at the below-listed contact details.
Reach Out to Us!
Name: Saphnix Lifesciences.
Address: Village Barotiwala, Utrathya Paonta Sahib – 173025, Sirmaur, Himachal Pradesh, India.
Phone: +91 8146661517.
Email: saphnixlifesci@gmail.com.