Third Party Pharma Manufacturing in Tamil Nadu
Third-Party Pharma Manufacturing in Tamil Nadu- In the market place, there is a huge demand for quality medicines. Rising population and bad health issues cause many problems. For making life better safe medication is really important. If we talk about India, then here medicine requirements quite high and to meet such huge demand, on a large scale manufacturing also required. Our company Saphnix Lifesciences is a reliable pharma manufacturing company. We produce medicines on a large scale and also offer our third-party manufacturing facility too. For now, we are offering our Third Party Pharma Manufacturing in Tamil Nadu.
Our company, Saphnix Lifescience is an ISO Certified pharma manufacturing company. We mainly involve in quality products and deal in the vast medicine segment. Even though we also provide our manufacturing facility for other companies also. For now, we are offering our Third Party Pharma Manufacturing in Tamil Nadu also. People who looking for a good business option, associating with our company is a great deal.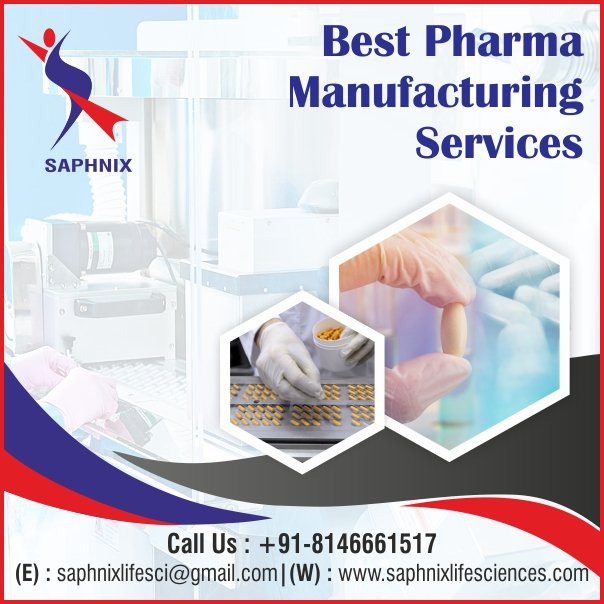 For any business requirement in the business sector kindly contact us at +91-8146661517  or you can also send us a mail at saphnixlifesci@gmail.com. Our team is always here to listen to your queries and questions and give you a good response.
Scope of Third Party Pharma Manufacturing in Tamil Nadu
There is a great scope for the manufacturing facilities in Chennai. If we determine the consumption of medicines then people only prefer safe range. If we see on stats then in the Indian pharma market has grown from 31 % in 2012-13 to 36 % in 2018-19. During this period, the household pharma market to has developed from Rs 75,071 crore to Rs 1.3 trillion. According to the reports, medicine manufacturing companies contribute a good part in human society and even they have the full potential of the many new pharma products. Our company, Saphnix produces the best medicines at affordable prices.
Top Third Party Pharma Manufacturing Company – Saphnix Lifesciences
Saphnix Lifesciences is an ISO confirmed pharma manufacturer company. Our company holds GMP&WHO affirmed production units in which just quality items produce. We have a group of pharma medication specialists that handle the assembling part and check the creation work. All units are highly- build and installed by the latest machinery. To handle such operations only experienced team look after on it.
We offer medicines at different definitions and fragments like capsules, tablets, infusions, oils, ointment, syrups, splashes and so on. All are produced using safe fixings. We additionally run a different quality check office where prescriptions quality is tried and after their endorsement just, medications sent for utilization reason. All drugs are DCGI endorsed.
For making sound India, we offer our third party pharma manufacturing facility too. For now, we are offering our  Third Party Pharma Manufacturing in Tamil Nadu. This is such a great help for small to medium size companies.
Following are the Services Our Associates Can Get
On time order delivery
Promotional input like bags, diaries, reminder cards, visiting cards etc
Attractive and moisture free packaging
Warehouse facility for storage
Customer support
Advantages of Third Party Pharma Manufacturing Services
There are a number of perks for choosing Third Party Pharma Manufacturing in Tamil Nadu. You can make a good business in the pharma sector. Following are the benefits of production facility:-
It turned out to be valuable for little and medium pharma organizations, who can't bear the cost of the assembling costs, so they can work together with assembling organizations, this office help them to add-on new items in the item portfolio and additionally, give them quality time to focus on other running offices.
Third party pharma producing administration offers a chance to pharma organizations to grow their business in a low venture. Since for a business development quality item matter a ton, so saphnix offer that global standard nature of items.
By picking manufacturing services, the pharma organizations don't stress over the stockpile of stock. Since, Saphnix is extremely prompt and convey its item on chose day and time.
Both pharma company and outsider maker get the points of interest. An outsider producer can deliver the comparable item for various organizations with various brand names. Additionally, a pharma organization can re-appropriate a similar medication to various producers. In this manner, significant levels of business effectiveness can be accomplished.
It is far more Cost-adequacy. The administrations offered by outsider producers are less expensive than overseeing in-house. The pharma organization gets mitigated from the concerns of orchestrating the beginning capital and repeating support costs.
These are the services and perks that one can get from third party manufacturer company. Saphnix is a responsible company and always produces the best. Our company, now offering its Third Party Pharma Manufacturing in Tamil Nadu.
CONTACT INFORMATION
Name: Saphnix Life Sciences
Address: Village Barotiwala, Post Office Shivpur, Paonta Sahib – 173025, Himachal Pradesh, India.
Phone No: +91-8146661517
Email Id: saphnixlifesci@gmail.com