Third Party Pharma Manufacturing Company in Faridabad
Third Party Pharma Manufacturing Company in Faridabad – Faridabad is one of the leading industrial districts of Haryana. The district has been the choice of thousands of people for setting up the industry due to its proximity to Delhi and its location on Delhi Mathura road. It occupies a significant place in the list of manufacturing hubs. Numerous of pharma companies are investing in this district because of its manufacturing capabilities. Saphnix Lifesciences is one of the leading Third Party Pharma Manufacturing Company in Faridabad. The organization today flourish by concentrating on what they are producing for the better healthcare of the people.
Saphnix Lifesciences is the fastest growing pharmaceutical manufacturing company who is providing its services in Faridabad, Haryana. The company is integrated with modern manufacturing units and advanced tools. We have the capacity for the large scale production of tablets, capsules, dry syrups, injections, drops, liquids, ointments, etc. Being enlisted as the top third party pharma manufacturing company in Faridabad we make sure to provide superior quality pharma products.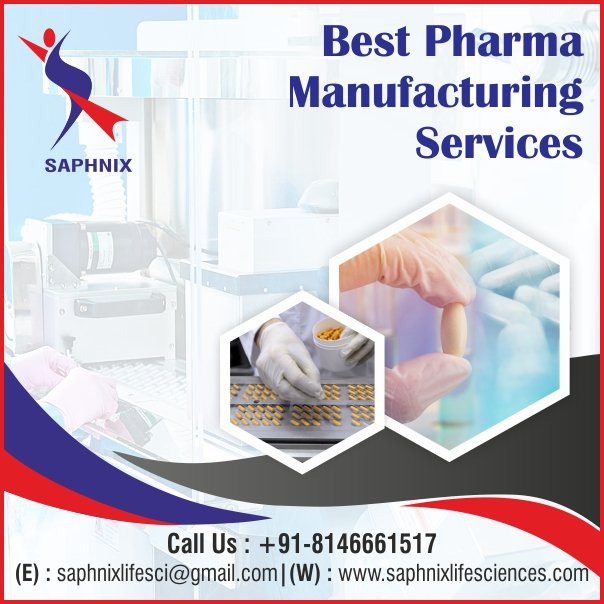 A number of pharma companies are associated with us in Haryana to outsource manufacturing work. We are looking for a strategic partner from the district Faridabad. So if you are planning to grow your business with pharma manufacturing then give us a call at +91-8146661517 or you can also mail us at saphnixlifesci@gmail.com.
Leading Third Party Pharma Manufacturing Company in Faridabad 
Saphnix Lifesciences is the pharma manufacturing company which is driven by technology. Our company lay emphasis on manufacturing APIs that provides effective results to the patients. We have a very well qualified and experienced staff those have all the prior knowledge about the pharma sector.
Our Manufacturing Company in Faridabad tends to follow both the quality control and quality assurance measurements for efficient production. We are an ISO certified pharma company whose production takes place under WHO and GMP certified units. Because of state-of-art manufacturing facilities, the company has the capability to meet the deadlines of manufacturing the products in bulk quantity.
 Key features of Top Third Party Pharma Manufacturer Company – Saphnix Lifesciences
We have a strong link with the distribution channel and this makes us capable to provide the manufacturing services in all areas of Faridabad.
The company formulate various dosage formulations and offer pharmaceutical drugs of almost all the pharma segments.
We have maintained a good facility at our premises as per all the quality guidelines.
Quality Pharma Medicines Manufacturer in India 
Saphnix Lifesciences have always been determined about following the quality control measurements for the complete satisfaction of the customers. Our wide range of quality medicines is prepared under Schedule M that are located in taxation free location of Faridabad. We have been very quick in adopting quality standards. Below-mentioned is following quality measures followed by us:
All the products manufactured at Saphnix Lifesciences are DCGI and FSSAI approved.
Our premises are equipped with the latest and modern machinery that produce only quality and innovative range of pharma products.
The quality raw materials are utilized in the production that is imported from a reliable vendor.
Along with the cost-effective production method, we make sure that our products are safe, effective, pure, durable and reliable.
The products are packed using sophisticated packaging material to avoid contamination and spoilage.
What Makes Saphnix Lifesciences Best Third Party Pharma Manufacturing Company in Faridabad? 
Saphnix Lifesciences is working from many years in the pharma manufacturing field and thus recognized as the experience holding company. We work professionally and transparently with all our clients. Today we are connected with many reputed pharma companies who are completely satisfied with our pharma manufacturing services.
We run our business with a customer-centric approach and this helps us to reach the new height of success. The company manages you to bring the facilities that are best in terms of quality and effectiveness. We specialize in producing various drugs range such as antibiotics, multivitamins, local anesthesia, analgesics, anti-infectives, antiemetic, anti-allergic, etc. Here listed below are a few things that make us the best choice for Third Party Pharma Manufacturing Company in Faridabad:
Rich experience in pharma manufacturing
Our research and development team always come up with the new and innovate pharma range.
Spacious warehousing facility with germ-free zone storage.
The company also provide the best marketing and promotional support to its associates.
Quick delivery of products i.e, between 30-35 days.
24 hours availability of stock.
Third party pharma manufacturing services remains no longer a new term in the pharma industry. As such many pharma companies are opting the third party pharma manufacturer services to grow and expand their business in the pharmaceutical industry.
Contact Information
Name: Saphnix Lifesciences
Address: Village Barotiwala, Post Office Shivpur, Paonta Sahib – 173025, Himachal Pradesh, India
Phone No: +91-8146661517
Email Id: saphnixlifesci@gmail.com