Third Party Pharma Manufacturer in Rajasthan
Third Party Pharma Manufacturer in Rajasthan – Third party manufacturing is not a new term for the pharma market players, as today numerous business seekers are investing in it for the expansion and growth of their venture. Pharma manufacturing of products by the leading 3rd party manufacturing company is a great business deal for the pharma companies who cannot afford huge manufacturing machinery and facilities. Therefore we are introducing you to a top Third Party Pharma Manufacturer in Rajasthan who is known for its superior quality products and world-class manufacturing facilities.
Saphnix Lifesciences is the fastest growing pharma manufacturing company in India. The company has made its remarkable presence among the huge population. Our manufacturing process is undertaken in the excise free zone and manufactured in compliance with the set norms and guidelines of the FDA. With our 300+ expertise, sophisticated machinery and equipment we are able to provide high-end satisfaction to both customers and clients. We have expanded our pharma manufacturing services in various cities of Rajasthan covering Hanumangarh, Bikaner, Jodhpur, Udaipur, etc. Shake hands with the best Third Party Pharma Manufacturer in Rajasthan and deal with effective and quality-proven pharma products.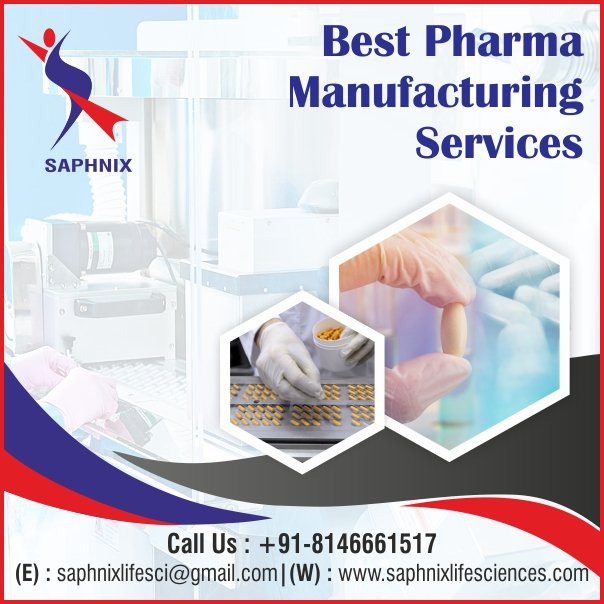 To know more about our organization and its third party manufacturing services give us a call at +91-8146661517 or you can even drop us an mail at saphnixlifesci@gmail.com. Our team makes sure that you have a hassle-free conversation with us.
High-Quality Pharma Products Manufactured by Saphnix Lifesciences
Reaching the top of Third-party pharma manufacturing companies in Rajasthan Saphnix Lifesciences is committed to providing the finest pharma formulations prepared by advanced technologies. We never diminish the standard of quality of the products as our products are formulated by quality ingredients and in the best possible combination. From the first step to last, the whole process is examined by our quality control experts who make sure that the products who are free from any possible adverse effects are delivered to end consumers.
The organization performs the quality test in chemical laboratories and along with it they also perform various strength tests of the packages. Our entire range of product formulations is available at every nook of the nation in various dosage formulations such as tablets, capsules, injections, soft gels, syrups, drops, ointments, gels, etc. Below we have listed the products segments of our formulations:
Antibiotics
Anti fever
Pain Killers
Antidiabetic
Anti Allergic
Anti Fungal
Anti Cold
Calcium and Vitamin Drugs
Antispasmodic
Anti Viral
Gastric Resistance Drugs
Multivitamin Medications
Anti Hypertensive
Cities Targeted in Rajasthan for the Expansion and Development of Pharma Sector
Saphnix Lifesciences has spread its third party pharma manufacturing facilities across Pan India and thus all the major cities of Rajasthan are covered by us. Our team of experts assists us to serve the best to the organizations who have partnered with us for the growth of their existing or new business. Become the partner of the best third party pharma manufacturer in Rajasthan and make the path of success easy for you in the competitive pharma sector.
Go through at our targeted cities of Rajasthan:
Ajmer
Alwar
Bikaner
Dausa
Dholpur
Dungarpur
Jalor
Hanumangarh
Jodhpur
Jaipur
Kota
Sri Ganganagar
Sikar
Nagaur
Pali
Churu
Sophisticated Manufacturing Facilities for the best 3rd Party Manufacturing in Rajasthan
When it comes to third party pharma manufacturing then Saphnix Lifesciences is listed at the top. The company is equipped with the best manufacturing facilities such as:
Our manufacturing machinery and technology we use for production help us to produce the products at cost-effective rates.
Our manpower and modern machinery make us capable of large scale production.
At our premises, we have maintained a spacious warehousing facility for the storage of a large number of products at room temperature.
We have a QC lab, R&D manufacturing facility, and R&D analytical testing.
Collaborate with Prominent Third Party Pharma Manufacturer in Rajasthan
Saphnix Lifesciences is well established and recognized name in the pharmaceutical industry in India. Being an ISO GMP certified integrated health care company we ensure that our pharma products and services are beneficial for everyone. Improvement in community health and the production of the best quality medicines is the aim of our company which we aspire to achieve with our business.
By associating with us you will ample of benefits such as:
Chance to deal with the quality assured and controlled products.
We support our business partners with promotional tools such as visual aids, visiting cards, diaries, brochures, written pads, calendars, reminder cards, samples, etc.
You will get the complete range of products packed with the leakage proof and packaging material. Alu Alu and Blister packaging material are used by us.
Our team ensures the orders of the clients are delivered at the said time and no delay has to face by them.
Contact Information
NAME:  Saphnix Lifesciences
ADDRESS:  Address: S.C.O NO – 4, Dev Shopping Complex, Bhabat Road, Zirakpur, Punjab 140603
PHONE NO: +91-8146661517
EMAIL ID:  saphnixlifesci@gmail.com