Third Party Pharma Manufacturer in Meerut
Saphnix Lifesciences is the most trusted Third Party Pharma Manufacturer in Meerut that has impressed everyone with its quality products, superior manufacturing, and class services. The firm is a prominent designer, manufacturer, and supplier of top-quality pharmaceutical medicines in Meerut and across the country. We are vastly experienced in the field of delivering marvelous quality medicines that cover the entire medical sector such as Capsules, Tablets, Ointments, injections, Gela, Sachets, Dry Syrups, Syrups, etc.
Being the leading Pharma Product Manufacturer in Meerut, we have always adhered to all the quality norms and guidelines laid down by the regulatory authorities. The firm has advanced state-of-the-art manufacturing units that are completely loaded with modern equipment and devices. This allows us to meet all your bulk and small orders as well. Furthermore, the firm has a team of professional pharma experts who are very experienced and proficient to carry out manufacturing services.
At Saphnix Life Science, we never compromise with the quality of products and packaging. All our decisions are inclined towards designing, formulating, and delivering a high-class product range in best-in-class packaging. The goal has always been to make medicines approachable to everyone. That is why we deliver quality pharma medicines at reasonable prices to everyone.  So, if you are planning to expand your business and wanted to deal with a highly demanded and quality product range, then get in touch with the Top Third Party Pharma Manufacturer Company in Meerut – Saphnix Life Sciences.
Get in touch with us to know more regarding us in detail, give us a ring at 08048079895.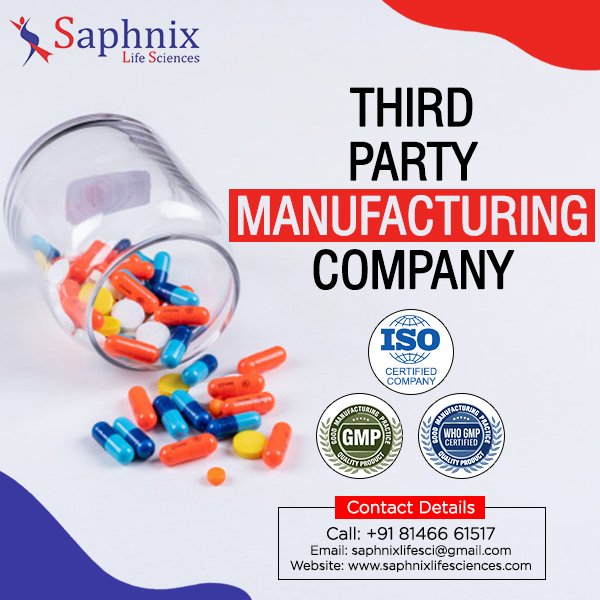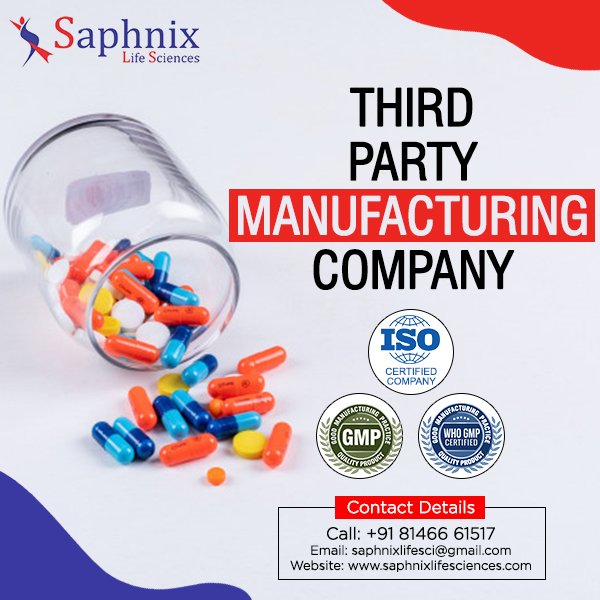 Class Product Range for Third Party Manufacturing in Meerut
Saphnix Lifesciences is dedicated to offering quality formulations and has always strived to bring new and unique formulations to the market. The company deals with a very wide range of drugs that caters to different segments of the pharma industry. Saphnix Life Sciences is in regular touch with the best vendors in the country to acquire quality raw materials.
We keep ourselves updated with the changing trends and needs of the patients in the market. Famous for our customer-centric approach, Saphnix Life Sciences has always assured to offer superior medicines that are best in terms of safety, durability, purity, and life. The product range offered by us for Third Party Pharma Manufacturing Services in Meerut includes:
Syrups
Ointments
Anticolds and Anti-allergic medicines
Suspensions
Pharma Capsules
Creams
Tablets
Sachets
Injections
Dry Syrups
Opportunity to Work with a Team of Experts
Being the best Pharma Product Manufacturer in Meerut, Saphnix Life Sciences has established ultra-advanced manufacturing facilities that are built over a huge area and are fully loaded with the latest devices. We have a separate department for every type of activity. To keep the flow of production smooth and for continuous working, we have especially hired a team of Pharma experts who are experienced in their respective fields.
These experts are hired on the basis of their qualification, experience, and industrial exposure. The primary duty of these experts is to fully utilize the resources and deliver a secured and quality product range. By connecting with our company, you will get an opportunity to deal with a team of experts who have ample experience in this industry and are very professional with their work. The following is the list of people in our team:
Chemists
Quality control officers
Laboratory Staff
Skill Laborers
Pharmacists
Marketing & Sales experts
Packaging & Warehousing officials
Saphnix Life Science | Top Third Party Pharma Manufacturing Company in Meerut
Saphnix Life Science is the top Pharma Product Manufacturing Company in Meerut that delivers marvelous quality medicines and known for its high-quality manufacturing services. The firm brings a unique combination of modern technology, quality formulations, and expertise. Furthermore, we have a team of pharma experts who are proficient in their work and help us to cement our place as the best Third Party Pharma Manufacturers in Meerut.
We are an ISO-certified Pharma Manufacturers in Meerut that has its own GMP-WHO certified manufacturing units. We are working in this industry for several years now and are fully familiar with what type of products customer actually needs. Thus, all the medicines offered by us have a huge demand in the market. Below are the major highlights of our company:
An ISO-certified firm with GMP-WHO-certified manufacturing units.
Separate quality monitoring department that checks the quality of every product.
Manufacturing division to take care of all the activities related to marketing.
The firm offers a unique combination of class manufacturing and expertise.
We offer fair and genuine business deals which are beneficial for both parties.
All the products are delivered on time across all the locations.
Reach Out to Us
Name: Saphnix Lifesciences
Address: Village Barotiwala, Utrathya Paonta Sahib – 173025, Sirmaur, Himachal Pradesh, India
Phone: 08048079895.