Third Party Manufacturing in Arunachal Pradesh
Third Party Manufacturing in Arunachal Pradesh – Saphnix Lifesciences is the leader in the pharma industry. The company has reached the pinnacle of success by providing the best third party manufacturing services to thousands of pharma companies. Our organization is equipped with 300+ skilled workforce, modern machinery, and equipment. We make use of advanced technology for the formation of unique and innovative pharma solutions. We are supporting the pharma companies that cannot afford to have their own manufacturing. In this blog post, we are introducing our best Third Party Manufacturing in Arunachal Pradesh.
Third party pharma manufacturing remains no longer a new term in the pharma industry. It has been opted by many business seekers who want to expand their new or existing pharma business. Saphnix Lifesciences is one of the best pharma manufacturing company in India who has spread its services across Pan India. The company is meeting the demand and needs of people residing in cities of Arunachal Pradesh regarding healthcare medications. We are providing the Third Party Manufacturing in Arunachal Pradesh, Tawang, West Kameng, Siang, Lohit, etc at quite affordable rates.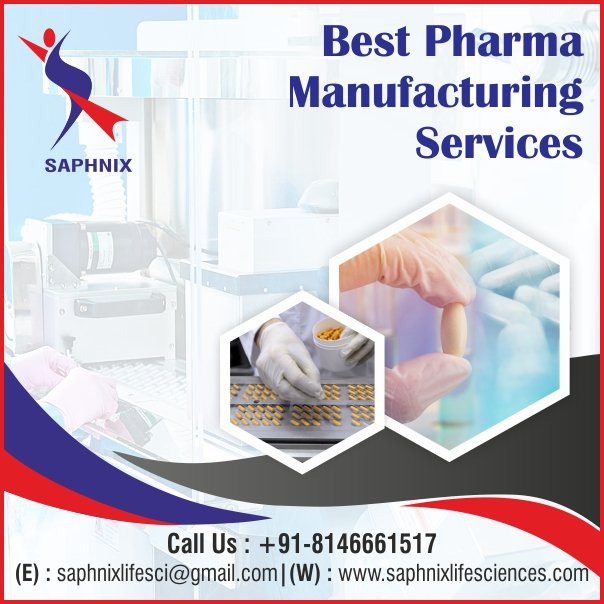 For any further details regarding our company and its third-party manufacturing services in AP, you can give us a call at +91-8146661517 or even mail us at  saphnixlifesci@gmail.com.
Major Benefits of Spending on Third Party Pharma Manufacturing
Third Party Manufacturing refers to get your products manufactured from other manufacturing units with your own brand name. At present, it is the most popular strategy opted by all the market players for flourishing pharma business. Here we have listed some benefits of spending on it:
Research and Development – The third party manufacturing companies are spending a lot on Research and Development so that their customers get ultra-modern products.
Great Revenue – By owning 3rd party pharma manufacturing you don't have to spend on expensive manufacturing units and you can also save your time. This allows you to focus on your sales and marketing & earn a good profit margin.
Diversified Portfolio – Companies like Saphnix Lifesciences are engaged in the manufacturing of over 60,000 generic brands across 60 therapeutic categories. By investing in third party manufacturing in Arunachal Pradesh you will get the chance to deal with a wide range of quality products.
Cost Efficiency – The Indian pharma manufacturing companies' cost of production is approximately 60 percent lower than that of the US. In third party manufacturing, you will get all the services at reasonable prices as companies are using cost-effective production.
Grow your Business with
Third Party Manufacturing in Arunachal Pradesh 
Third Party pharma manufacturing is hindrance free that attracts most pharma marketing companies. As per the research, the Indian pharmaceutical sector accounts for about 1.4 percent of the global pharmaceutical industry. In India, the pharma industry is expected to expand at a CAGR of 14.5 percent during 2009-2020 to reach USD 55 billion.
The pharma market is dominated by foreign companies with less domestic participation.
Adoption of new and advanced technology like using superlative ingredients and state-of-art manufacturing facilities.
Leading pharmaceutical companies have increased their investment in new cost-effective generic products to make their remarkable presence across global markets.
There is a development of production infrastructure as the demand and consumption of healthcare products is increasing.
The above-listed points state that there is huge growth in third party manufacturing. Therefore invest in this segment and have a successful business in your desired region i.e, Arunachal Pradesh.
Extensive Product Portfolio Formulated at Saphnix Lifesciences with Advanced Technology
Saphnix Lifesciences is the most proficient third party manufacturing company in India. The company is striving hard to provide the quality-oriented pharma products in the market. With our customer-centric approach, we are able to provide high-end satisfaction to the customers and clients. Our modern machinery make us capable of the large scale production of tablets, capsules, sachets, syrups, drops, ointments, injections, dry syrups, etc. These pharma dosage formulations are provided by us in various segments such as:
Antibiotics
Antifungal
Multivitamins
Skin Treatment Creams
Neuropsychiatry Drugs
NSAID Drugs
Dry Syrup
Anti Inflammatory
Pain Killer
AntiDiabetic
Topical Dermatologic
Become the Partner of Top Third Party Manufacturing Company in Arunachal Pradesh
Saphnix Lifesciences is ruling in the pharma market through its effective manufacturing services and products. Many people from Arunachal Pradesh have become the strategic partner of the company to avail of the best manufacturing facilities. Being an authorized and well-known company we are dealing professionally and transparently with all the clients throughout the working of the business.
Here we have listed some of our offered third party manufacturing services:
The best marketing and promotional support are provided by us for the success of the business in every nook of the nation.
Our distribution team makes sure to provide the on-time delivery of your orders.
At Saphnix Lifesciences you will get complete range packed with the air-tight and leakage proof packaging material.
We are providing excise free zone to our clients and thus it reduces the burden of taxation on them.
Contact Information
NAME:  Saphnix Lifesciences
ADDRESS:  Address: S.C.O NO – 4, Dev Shopping Complex, Bhabat Road, Zirakpur, Punjab 140603
PHONE NO: +91-8146661517
EMAIL ID:   saphnixlifesci@gmail.com