Third Party Manufacturers in Telangana
Third-Party Manufacturers in Telangana- Saphnix Lifesciences is a noticeable pharma manufacturing company in India. Our company is an ISO, GLP&WHO Certified company which involved in the manufacturing, supplying, exporting, distributing as well as the wholesale distribution of pharmaceutical products. We aim to help people with quality medicines. To make the medicine availability of everywhere we offer our manufacturing facilities. In the Southern areas, there is no such reliable pharma manufacturing company exists. So to help the people and pharma companies with quality medicines you can connect with our Third-Party Manufacturers in Telangana.
Our company, Saphnix Lifesciences is considered as the top pharma manufacturing company in India. We have made appropriate arrangements in providing our medication to the people PAN India at the justified prices. As of now, we are covering southern areas. So Our Third-Party Manufacturers in Telangana fulfilling the demand for medicines by providing our production facility for those pharma companies who have limited excess to production. We manufacture all types of pharma drugs required in human treatment.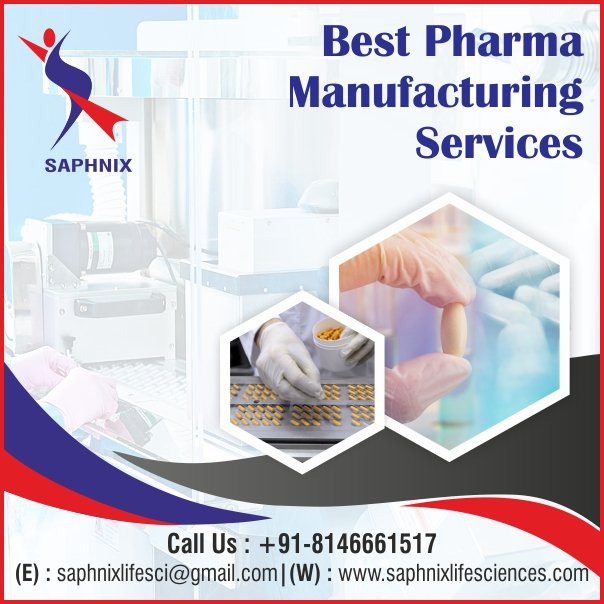 For any further queries regarding our company and its third-party manufacturing in Telangana, you can give us a call at +91-8146661517 or even mail us at  saphnixlifesci@gmail.com.
Saphnix Lifesciences – Top Third Party Manufacturers in Telangana
Saphnix has a reputed name in the pharmaceutical industry. We have achieved gigantic growth as the most efficient manufacturer and supplier of high quality and safe to use Pharma medicines. We produce all our pharma products in highly equipped units. We installed the latest Machinery which produces medicine batches on a large scale. We have an experienced team which looks after the production work only. Under their supervision all drugs prepare. We use high-graded ingredients for medicine production.
After the production, our medicines sent to the quality check department. The separate quality control unit has been set up to measure our products before introduced to the patients in order to exclude all forms of imperfection. Our Quality department ensures to provide standard products. After the production work medicines transfer to the packaging department where medicines packed in safe packaging material which keeps its shelf life.
Our Produced Formulations for Telangana People
We produce economic batch sizes with justified prices for numerous categories of products. All our medicines are DCGI approved and Internationally acclaimed. We provide first-class quality which cure the diseases. Following our produced formulations:-
Soft Gelatin
Tablets
Capsules
Liquid Orals
Oral Powders
Sprays
Creams
Gels
Ointments
External Oils, etc
Being a top Third Party Manufacturers in Telangana we try to cover all vacant areas where medicine requirement is quite high. You can avail our services at the best prices.
Our Manufactured Combinations
We deal in the vast segment and offer a wide medicine range. Following are the effective combination:-
Azithromycin Tablets IP 250/500 mg
Cefpodoxime Proxetil Tablets IP 100/200 mg
Ofloxacin 200 mg & Ornidazole 500 mg Tablets IP
Levofloxacin Tablets I.P. 250/500/750 mg
Cefpodoxime 200 mg & Ofloxacin 200 mg Tablets
Cefixime 100 mg And Lactic Acid Bacillus 2.5 Billion sporesDispersible Tablets
Cefixime 100 mg & Lactic Acid Bacillus 40 Million Tablets
Sultamicillin Tablets 375 mg
Prulifloxacin Tablets 600 mg
Ofloxacin 200 mg and Flavoxate HCl 200 mg Tablets
Linezolid Tablets IP 600 mg
Aceclofenac 100 mg, Paracetamol 325 mg Tablet
Aceclofenac sustained release Tablets 200 mg
Thiocolchicoside4/8 mg and Etoricoxib 60/60 mg Tablets
Etodolac 300/300 mg and Thiocolchicoside 4/8 mg Tablets
Pantoprazole 40 mg &Levosulpiride 75 mg SR Capsules
Amoxycillin 250/500 & Lactic Acid Bacillus 1.66 Billion Capsules
Doxycycline 100 mg & Lactic acid Bacillus 5 Billion Capsules Pellets/Powder
Saphnix Lifesciences has a great name in the Indian pharma industry. Our company dedicated its business to mankind. We keep very nominal prices for our medicines so that everyone can avail it without any problem.
Target Areas in Telangana for Third-Party Manufacturing
As a Third Party Manufacturers in Telangana we offering our facility everywhere. You can join us as per your convenience in your region.  Following are the areas where you can approach us:-
Siddipet
Jayashankar
 Jagtial
Jangaon
Warangal
Yadadri
Sangareddy
Peddapally
Nirmal
Asifabad
Vikarabad
Mancheriyal
Kothagudem
Kamareddy
Malkajgiri
Jogulamba
Nagarkurnool
Mahabubabad
 Suryapet
Hyderabad
Medak
For quality medicines, it is very important to find a reliable, popular and genuine manufacturer company. Once you get a good partner, the rest things become easy.
Advantages of Availing our Third-party Manufacturing Facility
There are numerous perks for associating with us for the production facility. We provide various type of benefits like functional, affordability, enhances productivity and specialized services. Following are the merits for collaborating with us:-
Good customer service
Fastest Dispatch Unit
Quality and safe medicines
Wide range of Products
Spacious warehouses
Authenticated services
For a genuine company, It is not easy to maintain the top position in the market. But Our company Saphnix has managed such responsible position for many years and we also ensure to give our best in the market so that no one can be left from quality medicines.
Contact Information
NAME:  Saphnix Lifesciences
ADDRESS:  Address: S.C.O NO – 4, Dev Shopping Complex, Bhabat Road, Zirakpur, Punjab 140603
PHONE NO: +91-8146661517
EMAIL ID:  saphnixlifesci@gmail.com