Ortho Medicine Manufacturer in India
Ortho Medicine Manufacturer in India – Ortho medicines have a good demand in India as today many people of different age groups are suffering from back pain, joint pain, and muscle pain. This lead to an increase in consumption of orthopedics medicines. Orthopedic medicines cover tablets, capsules, injections, syrups, joint pain oils, etc. With the rise in the demand for healthcare medicines, numerous pharma companies have opted third-party manufacturing. Saphnix Lifesciences is the leading Ortho Medicine Manufacturer in India who is providing the best pharma manufacturing services.
Our company is engaged in manufacturing and supplying of wide range of orthopedics medicines and products. We are an ISO certified firm and thus make sure to provide the WHO and GMP certified production units. The company has a reputed name in the pharma market because of its high-quality products, effective range, fine quality ingredients, world-class infrastructure, and best packaging. Our ortho medicines to give relief from muscles pain are DCGI approved. As a pharma company if you are willing to expand your pharma business in ortho range then collaborate with top Ortho Medicine Manufacturer in India.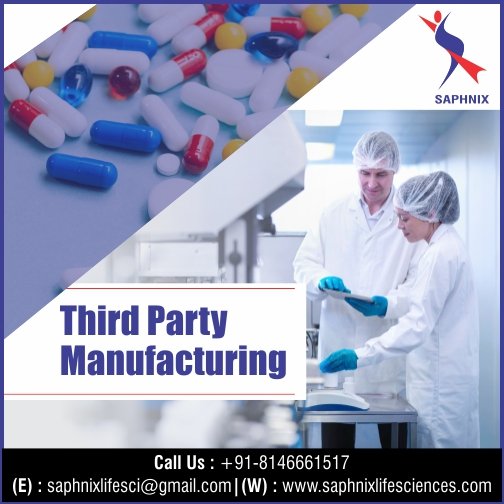 The organization makes sure to provide a safe, effective, durable and pure range of pharma products. In case you want to avail our outsourcing manufacturing services or want to know anything more in detail about our company. Feel free to call us at +91-8146661517 or you can also mail us at saphnixlifesci@gmail.com.
Emerging Pharma Manufacturing Company for Orthopedics Medicines – Saphnix Lifesciences
Saphnix Lifesciences is the most reputed and trustworthy pharma company in India. Our company is well known for its flawless drug range. Many pharma companies have associated with us because of our effective product range and best manufacturing services. Because of the increasing demand for the manufacturing services we have expanded our services in all the major states and cities of India. For the quality production of ortho drugs, our premises are equipped with sophisticated infrastructure units and advanced machinery. We have open our manufacturing services for all the pharma companies who are willing to expand and grow their business. Below listed are some of the features of our company:
WHO and GMP certified production units.
All products are DCGI approved
Quality assured production is only undertaken.
A wide range of products is produced.
Diverse Range of Orthopedic Medicines for Third Party Manufacturing
Quality is the topmost priority at Saphnix Lifesciences which makes us the top pharma manufacturing company in India. We specialize in producing the best quality of ortho drugs. The company follows all the strict quality norms and guidelines laid down by the Indian Medical Association. By providing a wide range of pharma products our aim is to fulfill the demand of the pharma companies. Moreover, by associating with us you get the chance to deal in multiple ranges of products and thus you can hold a good control over the existing pharma market. Below is the product range of our company:
Tablets
Capsules
Drops
Ointments
Syrups
Dry Syrups
Softgel Capsules
Injectables
Sprays etc.
Apart from this drug range, we deal with various therapeutic drug segments such as anti-diabetic, antiviral, antifever, antiallergic, antifungal, multi-vitamin drugs, etc. The company ensures that all the medicines and products are FDA, FSSAI and DCGI approved.
Quality Norms and Guidelines Being Followed By Us
The team of Saphnix Lifesciences is completely dedicated to providing the best quality pharma products. The company has hired a highly trained team of professionals and experts who keep the complete check at every level of manufacturing. In order to maintain quality, we make use of fine active ingredients and pure raw materials that are imported from the best vendors. At our premises, we have a laboratory for the chemical testing of the products. Our organization follows the following quality standards:
We have maintained an eco-friendly environment to provide a better experience of work to our employees.
A sophisticated and effective way of packaging is adopted by the company to avoid any sort of contamination and spoilage.
The company has separate equipment cleaning and storage area.
The expert team supervises the products before the final delivery.
Our company has advanced and modern equipment for quality testing.
Get the Best Pharma Manufacturing Services for Orthopedics Drugs by Collaborating With Saphnix Lifesciences
When it comes to choosing the best pharma manufacturing company then the name of Saphnix Lifesciences is listed at the top. As per the required standards our manufactured medicines are possessed under different brand name and trademark. Our professionalism and transparency in work have made us the leading manufacturing company. Our company has the capability to produce products on a large scale. Below are the manufacturing services listed that are provided by us:
Our production takes place in the germ-free zone.
All our products are produced under Schedule M units.
Marketing and promotional support are also provided by the company.
We make sure to provide the timely delivery of products.
Contact Information
Name: Saphnix Lifesciences
Address: Village Barotiwala, Post Office Shivpur,Paonta Sahib – 173025, Himachal Pradesh, India.
Phone No: +91-8146661517
Email Id: saphnixlifesci@gmail.com